Addlestone, c.1950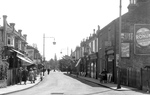 Previous photo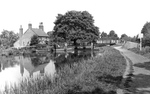 Next photo
Memories of Addlestone, c1950
I was born in Addlestone in what was Kingthorpe nursing home in 1944 (no nhs then)my father worked for Vickers Armstrong at Byfleet. My father was born in Cailard road Byfleet the same road as my mother was born. He is now 96 years old and went to school at St.Mary's school Byfleet. Unfortunately my mum died two years ago her maiden name was Dewberry and my name was Hughes. When I see that picture of Addlestone railway station and level crossing gates it brings back the wonderful memories. During school holidays we used to cajole my Mum into giving us halfpenny, my brother and I and other kids who lived in. Church Road. We would ride on the bus top deck front row down to Addlestone station. We would wait down on the ...Read full memory
My great Uncle Gilbert Gosden is shown as previously living at 16 Prairie Road according to the passenger list of the Balarand on 14.02.1936. He was emigrating to Australia that day.
I worked in the canteen at the bus garage. I used to cook breakfasts and make tea for the drivers. The inspector looked just like Blakey from 'On The Busses'; he was a stern character. One year in January we all came back to work after the New Year holiday. There was a gas leak and our supervisor Jean Steer called the emergency gas number but didn't get any reply. So she called the police. A police man was put on duty at the canteen door. The inspector came in smoking his pipe and was cut down to size when he was told to put it out! I took home £25.00 per week. My rent was £70.00.
I was born at 53 Prairie Road in 1964, my earliest memory is going to school in Chapel Park Infants School, Chapel Avenue, then we up to infants school in School Lane and then over the road to the juniors which I think used to be the boys school, I think at the time the new middle school was being built, and eventually ended up at St Paul's middle school and on to the secondary school. I remember my mum taking me to get new school uniform to the Co-op and I was fascinated by the little tubes that they would put the money in and send it up the pipes and it would come back with your change and Co-op stamps. As a teenager I would spend many a happy hour "up the town" and buying make-up in Woolworths or ...Read full memory
My mum, Irene White, worked in Jarmans on Station Road - just where it joins Crouch Oak Lane. It was probably in the very early 1940s before she joined the WAAFs. She told the story that her boss said you can eat as many sweets as you like, assuming that most people would get fed up with them pretty quickly - not mum, she kept her sweet tooth all her life.
My first job as a Saturday girl (1974) was working at a newsagents called Jarman's on the right of this photo on the corner of the road which led to the police station and infants school Darley Dene. I remember having to weigh snuff and having to use an old-fashioned till where you had to add up the items and press down the correct keys to show the total in the top window. I worked for a lady called Molly - she was still there in the 1980's. I think I earned about 60p for a Saturday afternoon.
Buy this as an Unmounted Print
Sign-in

to save this photo to your Albums.

Collect photos, maps, memories and books of interest to you.