Aldershot, Cambridge Military Hospital c.1965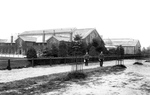 Previous photo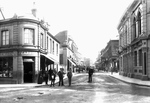 Next photo
Memories of Aldershot, Cambridge Military Hospital c1965
I was a "Civvie" pay officer at the old Buller Barracks from 1962/63/64. This was just as N ational Service was ending. My main Corps was RASC plus 165 Provost Co RMP. Best memories was that 1Battalion and also 2Battalion RASC had numerous Professional Footballers..doing their time. Weds afternoons were enjoyed playing at Aldershot FC against their first team. Most games ended in the soldiers (Mainly who were 1st Division in the Football League), thrashing Aldershot by scores of 6 Nil at least! Great times. Could do with some sort of call up today? Sorry to see the barracks demolished, for NEW Buller to be built. Sadly these barracks are today deserted, making way for the new Civilian Town to be constructed.
My husband was in the RAF and Odiham was our first place as a married couple. We were unable to get a married quarter and so my husband rented a flat over a driving school in Station Road. We both learnt to drive from there. I worked at the DHSS which was at that time in 1968-1980 in the old post office building before we moved to new offices opposite the bus station. We went to RAF Odiham again in the late 70's and my young son of 4yrs was admitted to Cambridge Military Hospital. He had excellent treatment and the young soldiers on another ward made him a plane, fortunately his virus cleared up. I always thought what a lovely old building it was and when again we returned to Odiham in the 80's was upset to see that it ...Read full memory
See my memory regarding this wonderful old bit of Victorian architecture, linked to the 1891 photograph of the Cambridge. In my day, 1969, it was mostly full of civilian patients although there was a fair sprinkling of families, car accident victims and some military having tatoos removed (one having 'hate' removed from his knuckles before enlisting in the police force). Others I recall from my ward (Ward 7) on the ground floor, had been e.g. victims of petroleum fires in depots with severely burnt arms (as walking wounded, we had to feed them and take them to the bathroom etc) and on one occasion a large number of paratroopers injured during a large scale parachute exercise over the nearby training area. Most ...Read full memory
Memories of Aldershot
My mother and father were married in St Andrews garrison church in 1944 Mum was a cook in the NAFFI and my dad was stationed on the camp after coming back from France following Dunkirk with damage to his legs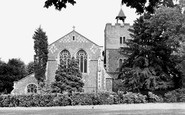 In 1956 I was 8 years old and I had to have a minor operation at the Cottage Hospital. I remember it was warm and clean and I was treated so well by the lovely nurses; I didn't want to go home. Actually, my mum didn't come and collect me when I was ready to leave, they had to call at my house and ask her to take me home. I felt sad leaving the hospital, it was better than living at home.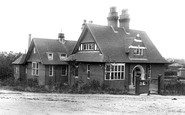 I used to work in this pub with my sister. It's 4 walls have set the scene for many a drama! It was a great pub back in the day - and excellent fun on Airborne Forces Weekend (not so much fun for out of towners, I'd imagine!) LOL!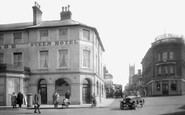 I used to swim here every summer, one of my best memories of relaxed swimming, the 'Slippery dip' slide and sun bathing. I remember there was a canteen where we used to buy icecreams and wandering around the grassey grounds - This made the 70s summer for me!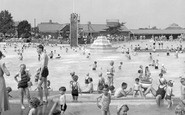 Buy this as an Unmounted Print
Sign-in

to save this photo to your Albums.

Collect photos, maps, memories and books of interest to you.