Aldershot, The Naafi Club c.1960

Previous photo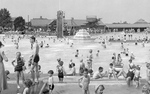 Next photo
Memories of Aldershot, the Naafi Club c1960
My mother worked at the N.A.A.F.I. although I'm not too sure which year. Her name was Alice Andrews and I would very much like to hear from anyone that remembers her.
Further memories include attending Mattins at St George's Garrison Church, just across the lines from my RASC barracks; running the Scout Group there in the Garrison Church Hall, as well as the Cubs, and then a note being slipped to me in my barrack room, requesting I take the Guide Company meeting as the Guide Captain and her Lt were unwell. I did, in Army uniform and it was enjoyable - I simply ran it like a Scout Troop meeting. I also took them to camp on my own ( how innocent both I and the girls were) which was a roaring success. Then I would borrow the Padre's cycle and cycle to the Hoggs Back and to the wee villages, like Elsted, to the south of it on Sundays after church. A convoy of tanks ...Read full memory
It was 1952 and the NAAFI Club held dancing lessons. Now, trying to learn to dance in hobnailed Army boots was impossible, but I did chat up a NAAFI girl and arranged to meet her after her work, which I did. She had, to me, an exotic name and was Finnish. When I arrived back at Baadjos Barracks the Intelligence Corps awaited me. I was taken to their HQ near Tunbridge Wells and quizzed overnight. Apparently they thought she was a Soviet spy and had been placed there to quiz solidiers about their regiments. I was so innocent then, but was angry when they refused me transport back to Aldershot. I had to phone the RSM who reluctantly sent a PU vehicle for me to return to Aldershot and my RASC unit. Being the RSM he ...Read full memory
Memories of Aldershot
My mother and father were married in St Andrews garrison church in 1944 Mum was a cook in the NAFFI and my dad was stationed on the camp after coming back from France following Dunkirk with damage to his legs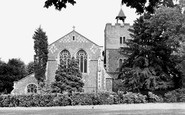 In 1956 I was 8 years old and I had to have a minor operation at the Cottage Hospital. I remember it was warm and clean and I was treated so well by the lovely nurses; I didn't want to go home. Actually, my mum didn't come and collect me when I was ready to leave, they had to call at my house and ask her to take me home. I felt sad leaving the hospital, it was better than living at home.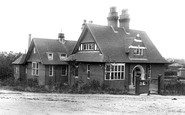 I used to work in this pub with my sister. It's 4 walls have set the scene for many a drama! It was a great pub back in the day - and excellent fun on Airborne Forces Weekend (not so much fun for out of towners, I'd imagine!) LOL!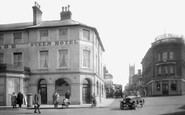 I used to swim here every summer, one of my best memories of relaxed swimming, the 'Slippery dip' slide and sun bathing. I remember there was a canteen where we used to buy icecreams and wandering around the grassey grounds - This made the 70s summer for me!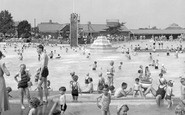 Buy this as an Unmounted Print
Sign-in

to save this photo to your Albums.

Collect photos, maps, memories and books of interest to you.