Aldershot, Victoria Road c.1955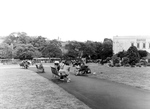 Previous photo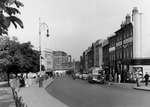 Next photo
Memories of Aldershot, Victoria Road c1955
We lived in Aldershot from 1970 up until the late 1970s early 1980s, we lived in 371 Williams Park. I went to Heron Wood School and loved every minute of it. My best friend was Peter Hedicker who joined 3 Para and lost his life on the 12th June 1982 at the Falklands, God Bless you Freeko!!! I also spent a lot of time in my teens at 155 Victoria Road, my friend Tony had a shop there, Spares And Re pares (TV SHOP), does anyone remember it? ALSO I had a girlfriend, Donna Webb, and would love to get back in touch if possible. Does anyone remember her name? I always will think of Aldershot as my home town, it's where I grew up and had so much fun, I love the place and still do even though I don't live there any more. There are so many memories for me.
For two-and-a-half dreadful years, from July 1942 to October 1944, my parents and I survived in three rooms at the top of number 40, Victoria Road, rented from a Mrs Pither. Only the front two rooms, overlooking the street, were habitable and the back room my father used as a sort of workshop. Water was from a tap, a few inches off the floor beside the loo, in a small closet at the top of the stairs. Hot water was boiled in a teakettle on an old gas stove in the 'kitchen'. Washing was done in an enamel basin and the dirty water was carried out and flushed down the toilet. One of my earliest memories is of going to get water and getting confused with the tap. I couldn't make the water turn off, the pot overflowed and, by ...Read full memory
Memories of Aldershot
My mother and father were married in St Andrews garrison church in 1944 Mum was a cook in the NAFFI and my dad was stationed on the camp after coming back from France following Dunkirk with damage to his legs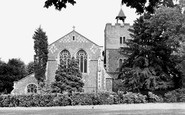 In 1956 I was 8 years old and I had to have a minor operation at the Cottage Hospital. I remember it was warm and clean and I was treated so well by the lovely nurses; I didn't want to go home. Actually, my mum didn't come and collect me when I was ready to leave, they had to call at my house and ask her to take me home. I felt sad leaving the hospital, it was better than living at home.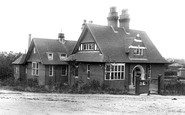 I used to work in this pub with my sister. It's 4 walls have set the scene for many a drama! It was a great pub back in the day - and excellent fun on Airborne Forces Weekend (not so much fun for out of towners, I'd imagine!) LOL!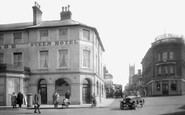 I used to swim here every summer, one of my best memories of relaxed swimming, the 'Slippery dip' slide and sun bathing. I remember there was a canteen where we used to buy icecreams and wandering around the grassey grounds - This made the 70s summer for me!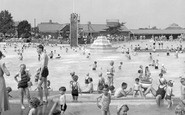 Buy this as an Unmounted Print
Sign-in

to save this photo to your Albums.

Collect photos, maps, memories and books of interest to you.