Allenheads, Slag Hill Cottages c.1965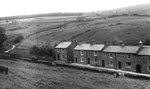 Next photo
Memories of Allenheads, Slag Hill Cottages c1965
Mam and Dad, Lizzie and Edwin Ridley, moved into Slaghill (the cottage on the right of the picture) in 1948 when I was 3 years old. Dad died there in December 1978 and Mam moved up to Chapel Cottages soon afterwards. There were 3 of us children living there originally - Margaret, Yvonne and myself. My 2 elder brothers Lloyd and Norman had already left for the Army. Maurice came along in 1950 by which time my sisters had gone to Brownrigg Camp school in Bellingham. There was no water or electricity in the house until 1961, water came in a bucket from the iron spring on the other side of the road and the light from a parafin lamp, later, a tilley lamp. We had a coal fire in the living room which Dad lit every ...Read full memory
Memories of Allenheads
I spent many happy hours here, and our house was just up the road from here so I didn't have far to go and have great fun.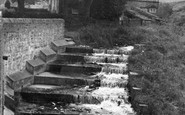 Mam and Dad, Lizzie and Edwin Ridley, moved into Slaghill (the cottage on the right of the picture) in 1948 when I was 3 years old. Dad died there in December 1978 and Mam moved up to Chapel Cottages soon afterwards. There were 3 of us children living there originally - Margaret, Yvonne and myself. My 2 elder brothers Lloyd and Norman had already left for the Army. Maurice came along in 1950 by which time my sisters had gone to Brownrigg Camp school in Bellingham. There was no water or electricity in the house until 1961, water came in a bucket from the iron spring on the other side of the road and the light from a parafin lamp, later, a tilley lamp. We had a coal fire in the living room which Dad lit every ...Read full memory
Mrs Brown's shop, at the far left of the picture, is where Mam used to take us for our weekly treat on a Saturday - to choose some sweets from a large selection in a line of big glass jars with ornate lids. Mrs Brown would put them in the shiny pan on her scales, adding the little bronze weights on the balance to get the ...Read full memory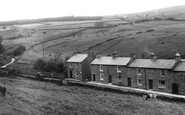 Buy this as an Unmounted Print
Sign-in

to save this photo to your Albums.

Collect photos, maps, memories and books of interest to you.