Ashford, Cottage Hospital 1908


Previous photo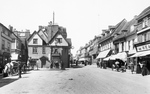 Next photo
Memories of Ashford, Cottage Hospital 1908
BACK IN THE 40s/50s MY DAD HAD A PLOT THE OTHER END OF THE UNDERWERE FACTORY THAT WAS AT THE END OF TUFTON RD HE HAD PIGS THERE IT WAS ALONG SIDE THE RIVER SO GOOD FOR GETTING WATER FOR THEM I USE TO HELP HIM HE HAD AN OLD HORSE NAMED DIAMOND THAT WOULD GET THE WASTE FOOD FROM THE HIGH SCHOOLS IN EAST HILL TO FEED THE PIGS.SOMETIMES CUTLERY AND CROCKERY WAS IN THE WASTE AND I STILL HAVE A SPOON THAT I USE EVERY DAY AND IT REMINDS ME OF MY DAD I WOULD BE VERY UPSET IF I EVER LOST IT.
I LIVED IN TUFTON RD FROM 1938 TO 1964 GOOING BACK TO THE 50sTHE RIVER OVER FLOD D RIGHT TO MY BACK GARDEN now i lived at 37 that was the last house in the road THE RIVER WAS ABOUT 2 TO 3 100 YARDS FROM MY GARDEN IT ONLY HAPPYED THE ONE TIME IS THERE ANY ONE THAT CAN WHOT YEAR IT WAS IF THEY LIVED IN TUFTON RD PLEASE LET ME KNOW
I remember when I was nursing at Ashford, Hothfield and Willesborough hospitals. We use to have to go to the Warren for some lessons. I can still remember my shock at seeing rows of `Iron Lungs` that were no longer in use. Also seeing the mortuary which was so tiny and had just wooden slates for the bodies. The house was beautiful and I remember how grand it all seemed way back then.
RE Photo 60335 - Sorry, but this photo is of the building that replaced the original Hospital built (circa 1890) in Station Road (formerly Marsh Street) a few doors from the Baptist Church and next to the town's Gas Works. The new Hospital was built as it was considered that the smell of gas was not conducive to the health of the patients! The building in Warren Lane was the Isolation Hospital and it stood derelect for many years before being demolished to make way for the building of the M20 Motorway in the 1980s This building in the photo still stands and is used as offices and the old gas works was acquired by the well known local builders C. I. Epps and Sons before being demolished to extend the main town centre car park in the 1970s.
Buy this as an Unmounted Print
Sign-in

to save this photo to your Albums.

Collect photos, maps, memories and books of interest to you.