Aylesbury, Castle Street c.1955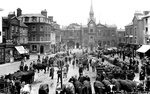 Previous photo

Next photo
Memories of Aylesbury, Castle Street c1955
my name is Winifred Haynes. I lived in Ashtead.at i3 albert road. from 1939 until about 1959.my dad was an old Ashtead man walter Haynes. many man y happy memories. DAD WORKED AS A painter and also at the memorial hall for many years. as a caretaker. I went to school in Epsom at the convent ; many happy day with my friends and family. remembering ann McLaughlin and the twins marraret and jean.now I live in Norfolk.
Born in 1961, growing up with my grandparents on Prebendal Ave, great memories. Little shops by the old brook, catching tadpoles, Ceely Rd school also Oak Green - seems like a mystery now. I lived in Aylesbury until I was 16, my grandparents had died. I cannot not find any photos of my past - did I even exist? My grandfather, Mr Thomas Henry Rettey, used to carry the mace for the Mayor and I was to give flowers to the Mayoress on many occasions, however I think I must be dreaming as I cannot find any pics or refs anywhere.
My husband, Roger Watts, and his family lived in Castle St in the 1950's. The picture has a figure standing outside their front door (no.15) which could be his mother or older sister Linda. Can anybody shed some light on this ? The street was always free of cars with only the doctor, who lived a few doors away, owning a vehicle. All the children attended the local school, St Mary's, including a number of children with Italian fathers, thanks to the number of ex POW's who stayed in the area following the war! Playground language lessons included how to swear in two languages - which if overheard by the head master (who still lived in the school house on site) deserved a cane across the legs - not very pc these ...Read full memory
Memories of Aylesbury
Buy this as an Unmounted Print
Sign-in

to save this photo to your Albums.

Collect photos, maps, memories and books of interest to you.