Battersea, Town Hall 1899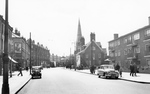 Previous photo


Next photo
Memories of Battersea, Town Hall 1899
Anyone remember a girl called Nadine? She lived in flats on lavender hill in1969? She had a little sister called Marlene and a brother. Nadine was about 18, thin with long blonde hair. She was my best friend for a time but we drifted apart. I'd love to know what happened to her, and hope she had a great life.
I remember living at 8 rowditch lane with my sister june and my three brothers bill Frederick and david and mum and dad the surname was Watson I went to lavender hill school for girls in amies street battersea from 1960 to 1964 I had a friend name jenny jones I remember she married a chris bonner if any know any imformation please contact me
I grew up in Doddington Road and went to Chesterton Road school until 1967. All the old houses in Doddington Road and surrounding streets were then demolished for the big estate of flats that now sits there. We moved up to Victoria Rise on the Cedars estate. I then went to Wix Lane until 1970 before going to secondary school at Sir Walter St.Johns from 1970-75. Lots of great memories growing up in Battersea. Highlights were going to Maggie Browns for pie and mash on Saturdays. Dodging the muck from the old Youngs Drays delivering to the pub up the high street. Does anyone remember the old toboggan run in the adventure ground in Battersea park. Dragging the old box carts up and then trundling ...Read full memory
Hi Does anybody remember Tommy Jenner he was from st phillips st on queenstown rd he kept in contact with my daughter but she has not heard from him in a while I was wondering if anybody knew where he was he had 2 brothers George and Brian and two sisters Joan and Ivy. He also lived in Culvert rd Battersea he used to drink in the Queen Viv on Queenstown rd. Thanks Lesley
I lived in Birley street with my parents and brother Colin. I have very happy memories of shaftesbury park school and later on Clapham county grammar school. Many days were spent on Clapham Common and at battersea park, where the funfair used to be. I can remember going to Clapham Junction either to the cinema or for a wimpy or just to mooch around the shops. Northcott road had a big market and was always busy. I remember mum and dad taking me for a drink at the cedars pub on a sat or sun evening, where I used to be in the corridor with the rest of the kids with our lemonade and plain crisps!Kids were not allowed in pubs in them days. On a Sunday the fish man would come round with his Barrow and mum would buy a jug of ...Read full memory
Hi I went to Battersea county school in culvert road from 1969 - 1975 I was in Tower house I have been on facebook but cannot seem to locate many people from that time.. My maiden name was Jenner and I knew some really nice people. I lived in culvert rd in a massionette above the shops. I used to go to the youth club at Battersea county school with friends who lived in the flats opposite my block lynn,debbie and ann. I the used to go to rollo court on a Friday where every other week was a disco. On a Saturday I worked in Adele hairdressers. A lot of years have gone by and I now live in kent but I will always be a Londoner at heart one day I will go back to Battersea probably with my ...Read full memory
I was born and bred in Battersea, Firstly we lived in Yelverton road with my Grandparents and I attended Falconbrook School. Then my parents got a Maisonette in Culvert road I then attended Chesterton School. in 1969 I attended Battersea County School where I fell in love, got my heart broken and made a lot of memories some bad some good all part of growing up. I remember going Saturday morning pictures at the Granada and there was also another cinema we used to call the flea pit it was next to the bingo hall. Also remember going to Battersea park fun fair all the time it was open, I remember the pie mash shop in Battersea high st. As I got a bit older I used to drink in the Eagle, Battersea Fair and The ...Read full memory
I lived in Battersea from about 1939 to 1949 when we moved to Hornsey in North London. We lived with my grandparents who owned the Southern Dining Rooms, a transport café opposite the marshalling yards, just at the end of the Dogs Home bridge. My grandmother's cooking was renowned up and down the country by the lorry drivers who regularly came to the café. It is no longer there. We used to go to the nearby fish shop and buy a penny worth of crackling. I have many happy memories of playing in Battersea Park, my mother would see us across the very busy road and send us off with jam sandwiches and lemonade for the day. We always made a stop by the telephone box on the way to press ...Read full memory
i lived in Currie St 2 doors from the Crown pub, all of my family lived in the surrounding streets.Their names were Robinson and Avis,my Great Gran owned the greengrocers in Ponton rd,we moved from there in 1958.Ihave some great memories and happy times from there,no luxuries but it was like a little village.
I have great memories of Battersea park. In the school holidays, with mum working days and dad working nights, my sister, brother and I, along with friends were taken to the park every day while dad went home for a sleep. I must have been 11-12 years old. Packed off for the day with our snacks we played around the paddling pools and open air theatre, then dad brought us chip rolls for lunch. Happy days..
I remember going to Battersea park on Sundays and going in the paddling pool by the jungle. We used to make a day of it having a picnic there. Mum used to get us to save a place by the tennis court so we could hang our costumes up to dry, there was six of us kids. I used to go in the Jungle and be in there all day. The best was climbing on the high platform and jumping on the big rope then everyone piling on top of you, it was great. I used to live in Banbury Street, Latchmere but moved when I was 12 years old. I missed my friends and the park. We moved to the country and been here ever since. I loved the funfair but was scared of the midgets. I also loved the Easter parades and would often go and help them decorate ...Read full memory
I'm trying to trace anyone who remembers Ruskin Street in Battersea, my Dad lived there as a small child and I am trying to trace where about's Ruskin Street was before it was bombed, rebuilt and renamed, thanks for any help. Austin Back
I want to find my childhood friend Charlie Keeble who lived at 1 Dickens Street SW8. He will be 65 or 66 or 67 now. My phone number 0208 679 2746. You were a wonderful friend Charlie and I am so sorry I let you down like I did. Ernie. PS you are in my book and whilst writting it I missed you so much. Take care mate and hope to find you soon
The impressive entrance on Lavender Hill actually led into the Council Offices, where I started work when I left school in 1966. At that time they had changed very little since their Victorian origins; there was a grand staircase opposite the main door, with a half-landing then curving wings sweeping up on each side to the first floor. A larger than lifesize statue of a reclining woman, who I seem to recall was rather scantily clad, was in place of honour on a marble plinth on the half-landing. The rooms were high ceilinged with huge high windows and marble floors. The senior managers were allowed a small piece of carpet under their desks; the rest of us had to put up with cold feet. I was the 'Office ...Read full memory
Buy this as an Unmounted Print
Sign-in

to save this photo to your Albums.

Collect photos, maps, memories and books of interest to you.