Bideford, High Street 1919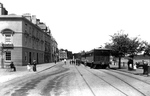 Previous photo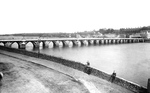 Next photo
Memories of Bideford, High Street 1919
In 1948 when I was 9 years old I was sent to Wembley convalescent home in North Bideford after recovering from scarlet fever, I loved it there, it was like heaven on earth. we had no education, all we had to do was read a passage from the bible that we were unfamiliar with and learn it off by heart and then we were allowed out to play. In the grounds there was three large rhododendron bushes that were large enough the play in. the staff kept us well dressed and took us for walks in the woods and after walking for about half an hour we would come to a group off cottages with a stream running beside them and there was rabbit holes large enough for us to fall into so we had to be ...Read full memory
After coming out of hospital in the early 1960s when I was 10, I stayed at a Catholic boarding school in Bideford which had a church attached. Over the years I have attempted to find out exactly where the school was, but to no avail. I would be more than happy if anyone out there could help?
Hi Folks, I am looking for an old photograph. Just over the bridge on the East The Water side of Bideford is the parking lot for the Royal Hotel. In days gone by, and in my youth, as I was born in Torrington Street, it used to be a square. At the edge of the square which was the bridge end of Torrington Street was a fish and chip shop. At the top of the building of the fish and chip shop was mounted a sculptered eagle. Does anyone have a photo of this eagle please The granddaughter of the fish and chip owners is a wonderful lady. We drifted apart to different sides of the world, but due to a beautiful set of events we have been brought back together. We recently said hello to each other after a gap of 50 years, ...Read full memory
It was every school summer holiday that my sister and I used to come with our parents to spend a week or so with grandma Annie Penhorwood. If we had any money we would go to the bakery shop near the bottom of the High Street and carry our prizes in their greased brown paper bag back up (usually in some heat) to eat later. This usually preceeded a trip to Westward Ho! to spend ages making a monumental shelter in the pebble ridge and carefully picking the biggest pebbles to run on, to get into the surf first. I also remember getting buffeted by enormous waves (especially if nearer September) and gamely hanging on to my home-made wooden surfboard, painted white to help it stay a little bit waterproof. Shame that ...Read full memory
Memories of Bideford
Buy this as an Unmounted Print
Sign-in

to save this photo to your Albums.

Collect photos, maps, memories and books of interest to you.