Bisley, Shaftesbury School 1914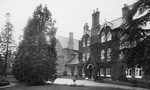 Previous photo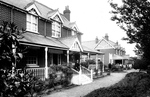 Next photo
Memories of Bisley, Shaftesbury School 1914
I went to Shaftesbury school as a day boy, along with Syd Binstead, David Collyer, John Lucas etc, my father Stan Burdett was the school engineer and we lived at No 1 The Firs in Bisley. As a lot of you probably know the school is now Coldingly prison.
I went to Bisley Boys School in 1948 after my mother passed away. I found it very hard and would run away. It was a horrible place and I do not have a good thing to say about it. Was given the cane more times than I can remember and was bullied all the time. If they did the things to any one today they would end up in court.
I went to Bisley boys school from 1947/1953 I was in the school band played cricket and was in the boxing team Harry Moult was the trainer,we boxed against other schools,such as the Gordon boys and Wellington college.i also played in the school band on the trumpet our greatest day was when we played at the Royal Tournament I can't remember what year that was.in the junior school I was in Trojans and the senior school I was in Cavaliers the head boy was a Tony Hughes his brother David was my best friend,there was a teacher there who had a wooden leg I think his name was Riley he used to go up the pub on his bike and when he'd had a few drinks he was nasty.
I was at Bisley from autumn of 1955 at age 13 & left in the summer of 1958 My House No. was 262. A few mates whose names I remember 'Ned' Kelly, John Clark (from Southend) 'Granny' Green, Roy Potts & Angus (from Brighton). Plus an old 'Bisley' boy, known as Pot Farrow (stuck in my memory) as he visited at weekends to play table tennis with the pupils. He was also very popular as he brought loads of sweets etc! I met up by chance with 'Ned' Kelly in the 1970's. He had just come out of the Army. He mentioned (as I was a film actor at the time) about Barry Evans being more successful than I then! Anyone out there who remembers me, I just missed out on the maths prize (class 4 T&s) for year 1958 - due to cut backs, Damn!
My mam and dad split up and I was sent to Bisley. At first I was hard to get used to but I made a lot of friends. My first house was Trojans then went up to Ironsides. Barry Evans told us stories that he made up after lights out and took Billy Bunter off to a t. Mr Burrage was in charge and the head master was Mr T T Barns. I remember Mr Berry, Jack Standing. I tried the violin, Mr Botting was the teacher but could not get away with it. I remember one house capt, Les Hobeax, not sure of the spelling, played with Lonney Donagan with his skiffle band. We enjoyed the weekends playing out in the fields, and the television came up out of the stage and shone on the screen. We all looked ...Read full memory
I was mad about photography and would go all over Bisley with my camera. I would concentrate on the wildlife, esp. on the village pond where my brother and I would look for various types of pond life. In those days we would often not see a single person, and cars were so rare that we would spot cars, as in "That is an Austin A40" or "That is a Sunbeam Talbot", now I suspect there is a constant flow of traffic through the village. I came back to Bisley in 1980 and took ten photographs of the village store, etc and found that our old school tuck shop was still there..as I am always in Guildford on accountancy work, for that is what I went on to become. I intend to come ...Read full memory
I was a pupil from 1937 until 1941 when I left to go out into the wide wide world and I always said that we went in to the Bisley Schools as boys and very soon became men as many of us went into the services and made a mark for us the rest of our lives Where are they all now? The schooling was second to none as I have looked back and it helped us on our way to be self-reliant, and my children I know have learnt from my life. I was in the 'IRONSIDES', one of the four houses in the seniors, and our dormitory was in the top right of the photo and my bed behind the second window from the right. I have certainly learnt a lot from my life John
Buy this as an Unmounted Print
Sign-in

to save this photo to your Albums.

Collect photos, maps, memories and books of interest to you.