Blackburn, Church Street c.1955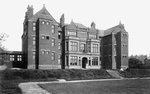 Previous photo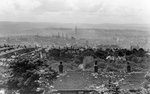 Next photo
Memories of Blackburn, Church Street c1955
This photo brings back memories filled with trepidation, it was 1960 and I had to go into Wythenshawe hospital for plastic surgery after falling off a bicycle I was 9yrs old. The day before I was to be admitted my mum and my Auntie Jean took me down to Woolworths to buy me a Plastic "Frido" football to cheer me up. Their were gents public toilets in front of Woolies and being gripped with fear about going into hospital I decided to do a runner and shot down the steps into the toilets to hide, obviously being mens toilets they were out of bounds to my mum and Aunt so mum had to ask a gentleman passerby to drag me out kicking and screaming, what a commotion! I still got my ball and still went into hospital, and survived. Apache by ...Read full memory
This photo is as I remember Church St when I was a little girl. I had three younger brothers and when Mother took us to town she often went into Woolworths. We were told that if we became lost we had to find the weighing machine. It was huge and stood near the doors. She said that if we waited there she would find us. I don't remember any of us ever getting lost in the store. We also were taken to the toilets facing Woolworths doors, which can also be seen in this photo. It was always fascinating having to go down below ground level to the toilets. It is so sad that it is all in the past now.
Memories of Blackburn
I moved with my parents from Preston to Blackburn in 1946 We lived on Park Avenue off Shear Brow attended Four Lanes End CP School on Revidge Road where I was very happy My recollections of that school was a teacher called Mr Sharples who when he caught you whispering in class would throw the wooden board duster at you ...Read full memory
My first memory of the Infirmary is when I was four years old. I had my tonsils and adenoids removed because I was very, very deaf. After the operation I could hear but it would be many years before I learned that I only had hearing in one ear. When I was six I had another operation to remove a tumour from my neck. It ...Read full memory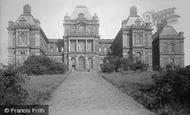 Memories of shopping with my parents, Jack and Ellen, when I was 9 years old is always a pleasant thought, although it was not all pleasant, when it was raining the water off the canvas covers would drip down your neck, and if it was windy it would blow the canvas up and you got more than you had bargained for (ah, the ...Read full memory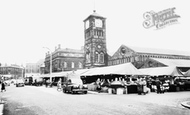 At some point during the Second World War I was sent to what was called a convalescent home in Blackburn. I was a bed wetter and was sent there by the people that took me in as an evacuee. They never told my mother that I was being moved, and the shock to her was awful. Fortunately she rescued me as soon as there was a lull ...Read full memory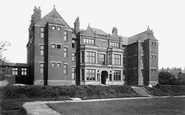 Buy this as an Unmounted Print
Sign-in

to save this photo to your Albums.

Collect photos, maps, memories and books of interest to you.