Blackhall Colliery, Crimdon Dene Beach c.1965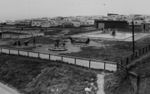 Previous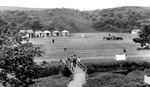 Next
Memories of Blackhall Colliery, Crimdon Dene Beach c1965
The name of the cricketer that came to play at Blackhall from Barbados was called Desmond Haynes I think
My grandparents spent nearly all of their married life in Blackhall and my grandad still lives there today. I'm 37 now and live on the other side of the world. I have lots of great memories. I used to spend a lot of time at the swings in the park next to the cricket and bowling ground with my sisters. I'd take walks along the beach banks with my Nan, sisters or on my own with their dog. I remember going to Crimdon and if the car park was nearly empty, my grandad would let us sit on his knee and drive his van around in circles, the perimeter of the car park. I lived with my family in Peterlee and moved away to the south of England when I was seven years old, but we'd visit often and stay in ...Read full memory
This photo shows Crimdon Dene beach. Blackhall beach at that time was covered in coal dust and slurry caused by the tipping of the Colliery waste into the sea.
Memories of Blackhall Colliery
lackhall colliery in the 1940s and 50s i was lucky to be brought up there proud loyal hard working people so different from life today.born 1940 lived in 11th street and was encased in love and safetymy father was a shaft man at the colliery(Billy) and my uncle Bob (jogger) was a goalie in local football . my mam ...Read full memory
Born in 1936 at Blackhall Rocks. Went to junior school at Blackhall Colliery and then to Henry Smith at Hartlepool. Nana used to live in Third Street (Graham) with my 3 uncles (Thomas, Jack and Stanley). I have very fond memories of this period of my life and going to Crimdon Dene for days out and to play ...Read full memory
My favourite memory of living in Blackhall Colliery was of going to meet my dad from the pit baths, I used to sit on the top steps or swing on the hand rail waiting for him and listen to all the men sing, it was the best feeling even now. Then when some of them would leave they would shout "She's there Jimmy" to ...Read full memory
I was born in Blackhall in 1940 and lived in 11th Street and went to school at Henry Smiths - hated it, so I borrowed a fiver off my granda, signed my parents name on the form, and left when I was 15 (in those days when you went to Grammer School you had to sign to say you would stay till at least 16, ...Read full memory
Sign-in

to save this photo to your Albums.

Collect photos, maps, memories and books of interest to you.