Bracknell, Priestwood Avenue c.1960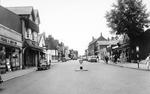 Previous photo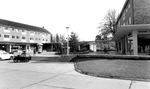 Next photo
Memories of Bracknell, Priestwood Avenue c1960
My family moved to Bracknell in 1961 from Lancashire. I can remember some of the shops in Crossway. At the top end by the High Street was a toyshop, next door was a gents clothes shop nearly opposite that was Miller Morris and Brooker a hardware shop and them the coffee bar, the other shops I cant recall. We used to go to the pictures at the bottom of the high street which was next door to Strachans garage. Opposite was the Red Lion Pub. For quite a few years noting seemed to change. We were shown models of what comes next at my School Wick Hill. I left the area around 1973 and did come back until the new century and was total lost the place had changed so much I got lost. I had to head to Binfield rd ...Read full memory
We moved to Easthampstead in 1962 and moved away in 1968. Bracknell town did have the Crossways but I do remember the rest of the town which was still beautiful and old. When we returned in 1969 I was horrified as an 11 year old to see just how the old town had been torn down. I went to Fox Hills infant and junior schools, we walked there and back unless there was heavy rain when we got the bus. The walk took 45 minutes. I remember Miss Golding the Head of the infants, she was a tyrant! I also remember the smell of the rubber matting from the main hall to the offices! At the junior school, Mr Carter was the Head, we called him Mr Carter squashed tomarter! During rainy playtimes he used to play ...Read full memory
I moved to Lindenhill Road back in 1954 from South London. I have many fond memories of growing up there and attending Meadowvale Primary School before going to Ranelagh Grammar School. I remember the shops at Priestwood Square, the Admiral Cunningham, the Doctor's office (Faunch and Lask) and the Dentist (Bond).
I have lived in Lindenhill Road, Priestwood since March 1954, when my parents moved from Southwark, South London. My dad helped build the new town - initially by travelling down from London on the 'milk train' with his brother and brother in law, and then securing a Bracknell Development Corporation house. He worked on many of the houses in Priestwood 1 and 2 and also Wick Hill School (now Garth Hill College). I remember that the Development Corporation ran a very tight ship under 'Miss Christie' who was based at their HQ at Farley Hall. The greens on the Priestwood Estate - such as Brook Green (just off Priestwood Avenue) were immaculately maintained; the verges neatly cut and the grass clippings removed. ...Read full memory
Buy this as an Unmounted Print
Sign-in

to save this photo to your Albums.

Collect photos, maps, memories and books of interest to you.