Bracknell, The Market Inn 1951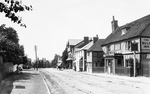 Previous photo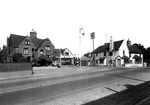 Next photo
Memories of Bracknell, the Market Inn 1951
Hi Susan , I always thought that Joe Smith was the bookie that done the train trip to the sea side each year , got a packed lunch , and a coin as you said , My wife worked at Thompkins the Bakery , there sun Dave , married Jenny Plumber , they had one other son , Fish and chip shop in Station Road you went up some stairs to it , sawdust on floor , Oh I Wish , can smell the vinigaret from here , we went back to Bracknell last March , stayed at the Bracknell Hotel , never remembered much , all changed , was told that the Town centre is coming down and being rebuilt ? Town Planners ??? very disapointed with what has been done to where I lived , Most of my life I was known as Colin Simmonds , untill my youth , then ...Read full memory
Was called Station Hotel when I was young. Searle Street, ran between the hotel and shop a short unmade lane. I was born at no 9.
Hi Peter, I was one of those kids playing 50-a-side football on Brook Green; you and your brothers being older than us. I lived in Lindenhill Road up the hill. There use to be a brook going through the green. Also used to play tincan alley up in front of Admiral.
Hi Peter, I remember the Thompkins was it the baker or was that the Cheneys? Joe Smith was the newsagent who used to treat the kids to a summer outing by train every summer. We used to get a new florin and a bag of goodies and had a great day out in Bognor. We lived in Old Bracknell Farm, my mum and dad were bombed out of London and dad bought the farm. I can remember before Downshire Way was put in, we used to walk along a track to the Downshire Arms pub and Frog Lane was a foot path to Easthampstead. There was a rhubarb farm along there and it was all fields. I went to school at Priestwood School and walked from Old Bracknell Lane under the single bridge, down Easthampstead Road, past Barings ...Read full memory
I remember Mrs Murphy who ran the shop next to the Market Inn - she was a no nonsense Liverpudlian (who knew all about Bessie Braddock & Cilla Black!) but was a very kindly lady. The shop was very handy if you had to get something before getting on the train, as she stocked a good range of goods. Her son sometimes served in the shop.
The shop next to the pub. By the time we arrived in Bracknell in the sixties, and certainly until I left for Uni in the seventies, was a newsagents and I am pretty sure it was run by Mrs Murphy. We had regular magazines ordered there (it was easy for father commuting to London from the station just to the left of this picture) and I seem to recall these were all kept in a shopping basked suspended from the ceiling! Why? - I never thought to ask, but thus it was, and we all rummaged to find ours. Odd really, because Mrs Murphy was very short.
Oh, what a joy to find this photograph. Between the Market Inn and the shop was a little unmade lane called Searl Street. I was born at number five, at my grandparents' house, in October 1945. Over the years I returned to Bracknell on many occasions to visit relatives, the last time I visited was in the 1980s and I was shocked to find the lane had disappeared, along with the house I was born in. If anyone out there remembers the Tomkins family please leave a post.
Buy this as an Unmounted Print
Sign-in

to save this photo to your Albums.

Collect photos, maps, memories and books of interest to you.