Bradford, Kirkgate, Market Buildings 1897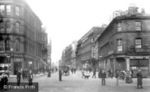 Previous photo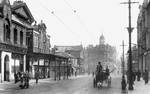 Next photo
Memories of Bradford, Kirkgate, Market Buildings 1897
We came to live in East Bowling in 1948 (Caryl Road, just a stone's throw from the former Bolling Girls' Grammar School). Trams (soon to be replaced by trolley buses) were still running up and down Wakefield Road. I went to Lorne Street Primary School (now sadly demolished) before going on to Grange Boys' Grammar School. I remember learning to swim in Bowling Baths a couple of hundred yards down the road next to St, John's Church where my sister was married. There was also a small library whose books I would devour at the rate of two or three per week. Saturday afternoon was special as there was a children's matinée at the Coventry cinema (nicknamed 'the fleapit') opposite the church. Laurel and Hardy, Roy Rogers, Hopalong ...Read full memory
I remember walking up the steps and through the big ian gates. Seeing all the stalls full of fish, meat, veg it was a wonderful market. We would go out of the other side into the open market which is now john Street market. Those were the day's.
My mum worked in Willey's wallpaper shop prior to the war and my dad worked in Morris's geocery shop. When dad joined up, mum took his job, so that dad would have a job to come back to. As mum became friendly with the Pie Shop owners, she would take me, when a child. I can remember the big steaming pie in the window. The owner bought me my forst teddy bear.
I am glad Mr Johnson has happy memories of Carter's Cafe. My father and mother, ran this for many years and I remember Mrs Johnson well. My father, and three more Carter generations were all Bradford market people. The other three generations being in the wholesale at St James's market. Somewhere, I have one old photo of some of the St James's tenants of around 1914, if anybody is interested. It was a shame that Kirkgate market was pulled down, as the iron frame was magnificent. I met my wife there in 1956, she worked in a flower stall, in the market. Many of the teenage market workers and shop workers, who in turn were based on the outside wall of the market, would go out together on Saturday night to Ashworth's Dance ...Read full memory
In 1944 I worked at 36 Piccadilly, an electrical wholesalers (next door to the invisible menders). My duties were to deliver accessories to the electrical shops round town. Each evening there were parcels to post, the nearest post office was in Darley Street. The shortest way was by way of through the back door of Woolworths or Marks and Spencer through the stores and out of the front into Darley Street (handy if it was raining). I lived in Lidget Green, I would go through Kirkgate Market and then Rawson Market, past the pie shop (made famous by J. B. Preistley) and into the Co-op Emporium, out at the bottom of Godwin Street to the Victoria cinema for the 37 trolley bus. I was in Bradford the night the bombs ...Read full memory
When I was very young my dad used to drop me off at Carters cafe in Kirkgate market where my grandma use to work, her name was Ethel Johnson (nee Deacon), happy days. It's tragic seeing Bradford today, what a lovely compact shopping centre it had, my dad was a wool merchant and it was a close knit community of wool men.
Buy this as an Unmounted Print
Sign-in

to save this photo to your Albums.

Collect photos, maps, memories and books of interest to you.