Bridgend, Caroline Street c.1965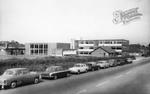 Previous photo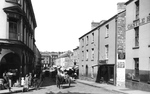 Next photo
Memories of Bridgend, Caroline Street c1965
I started work in Masters Men's Outfitters in 1967 straight from school. It was situated at 17-19 Caroline Street. I worked there till October 1969. Next door was Olivers the shoe shop and also in the same row was Stokes Men's Outfitters. This area of Bridgend brings back many happy memories.
I certainly remember Stuchbery's and went there once a year for the new school uniform with its felt hat and navy knickers. A great institution. Then I married the son of the owner and we called our second child Robin Stuchbery Turner. Please note correct spelling of this tricky name, I have nineteenth century business cards & notepaper in front of me. The Australian branch of the family had a slight change to the spelling and the American branch a different one. I cherish hand painted buttons, antique lace etc that was given to me when the shop closed down finally after 100 years.
I worked at T N Thomas in Bridgend, it was on the Arsnel industrial estate. We used to catch the bus from Caerau in the morning. When it snowed we had to leave early or get snowed in. We made toys in Wales that always said 'Made in England'.
Who remembers Stutchberry's - first shop on the left next to the parked car - it was an Aladdin's cave. My mum used to buy dress fabric and haberdashery there. Remember the vacuum tubes that took the money to the cashier and then came back with your receipt and your change? they used to fascinate me when I was little. We had to go there for most of the Girls' Grammar School uniform - the rest you had to get in Evans the Outfitters in Cardiff.
Buy this as an Unmounted Print
Sign-in

to save this photo to your Albums.

Collect photos, maps, memories and books of interest to you.