Brimington, Secondary Boys School c.1965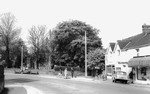 Next photo
Memories of Brimington, Secondary Boys School c1965
I lived on Station Road from 1947 until I got married in 1968. I went to infant school in Princess Street and the only teacher I remember was Mrs Wright. I then went to the Junior School and finally in 1957 to the Boy's School until 1962 when I left and went to work at The Halifax Building Society in Corporation Street , Chesterfield. My wife and I left Chesterfield in 1971 and finished up,in Stourbridge , via Mansfield, Huddersfield and Glasgow. I remember most of the teachers at the time I was there Mr Kelly, Mr Bailey, Mr Wood, Mr Clarke, Mr Staniforth, Mr Leaning,Mr Cannon. Mr Crofts and also probably our most famous old boy John Hickton who went on to play for Sheffield Wednesday and ...Read full memory
At this school, I really didn't learn anything at all and the punishment was very severe. Didn't seem to matter what you did, you would get hit anyway. When you moved from one form to another, 200 boys would be moving on the stairs and the slowest 5 people to get into the classroom would be punished. The headmaster thought he was something really special and punished students for anything. If the classroom wasn't quiet enough, he would leave and come back 10 minutes later. If you were the one not quiet in an assembly, he would make everyone stay and sing hymns after 4:00. If you got caught smoking off school premises, you would get caned the next day. This punishment would increase the more times you got ...Read full memory
I'm sorry to say my experience at the school was not a happy one, I recall being bullied by other pupils and certain teachers. These memories have stuck with me all my life,I recall one particular incident in R.I. (religious instruction) the teacher at the time (Mr S), for no apparent reason went psycho; picked one pupil up by his hair and literal kicked him up the backside repeatedly down the corridor. Another teacher who took a technical drawing lesson, his favourite game was to walk around the classroom and smash you on the top of the head with a blackboard rubber 'the wooden side'. It's not surprising I didn't want to go to school, I never knew what was install for me! Fortunately for me, I left the school ...Read full memory
I attended Brimington Boys from 1962 - 1966. The Headmaster during my school time was the arch nemises of all pupils, Mr D Kelly. Looking back now I have nothing but admiration and a great respect for him and his aims and ambitions for his pupils. How would some of the present generation cope with him? Mr Bob Bailey was Deputy Head and tech drawing, Mr Clark was maths and communial singing in the morning assembly. Mr Ted Cannon was history and rugby after hours and weekends. Mr Philip Ramsdale was english and he ran the Pioneer Club that went hiking at weekends and camping at Litton Mill in the summer. Mr Peter Stanniforth was art teacher for my first year followed by Mr Boam and Mr Pendleton. Mr ...Read full memory
I went Brimington Boys School, off Springvale Road, from Sept 1957 to July 1961. I must say that I enjoyed my secondary education, made loads of friends, and liked most of the teachers, apart from Thrack Kelly the Headmaster, who was a bit like Hitler but taller. At least there was disipline in those days, not like today. There was Bob Bailey - Tech Drawing, if you were unruly he would teach you about tangents, straight line touching a circle, and in his case it was a lump of wood touching your backside. Mr Leaning - Geography, Mr Fisher - English, Nobby Clarke - Maths, Terry Canon - History, Rubin Crofts - Gardening and things , Mr Seal -Science, Mr Lewis - RE & Drama, Mr Wilkinson - PE, ...Read full memory
First day, stood outside the gates not allowed in until 10 mins to nine, all the older boys who were in their last year lining you up and telling you when it would be your turn for the mill. (No one escaped this.) Teachers I remember were Thrack Kelly headmaster, Clarky maths deputy head, Sharp PE, Swinn RE, Grizz Rodgers science, Crofty rural studies, Woody wood work, Smithy metal work, Harry Lane history, Bob Baily tech drawing, Angus geography(who even after six weeks' holiday remembered I had not handed my homework in). There were two playgrounds, the top one for the older boys, the bottom one for the first and second years, this one just happened to be surrounded with a six foot high wire netting fence ...Read full memory
I have been away from Brimington for about 22 years, some of the area has changed but not much, I was shocked to see my old school gone. Brim boys was my last school before my first job as apprentice mechanic at Brocklehurst's on Whittington Moor. The old school has good and bad memories for me, I remenmber some of the teachers, Mr Wood, Mr Croft, Mr Topham, Mr Rogers the science teacher, I think he had been drinking some of his chemicals, the RI teacher was Mr Sweeney, I think he was very passionate about his work. I remember a trip to camp, bell tents and cold water and half a field to keep the boys from the girls. I became a prefect just before I left, we could stop people coming into school as we stood by the radiators keeping warm...good days.
My grandfather, Fred Wheeldon, was born at New Brimington on Princess Street, and he married Margaret Wheeldon where they lived on Ringwood Road before moving onto the White City in 1952, when it was first built. My mum, Kath Wheeldon, still lives in the same house 59 years later! I went to Westwood lower and upper, and lived locally until 2005. The coal board estate is not the same any more, all the family values and community spirit has gone. Brimington holds a lot of good memories for me like school, friends, my horses at Ringwood farm although I can say I don't get homesick when I drive through the estate to visit my mum.
Oh, I'd love to know who made the comment about Mr Bower, Dooher, Lever, Pettitt, Crofts, Sharp, and old vVncent, head of school, as it was my time too, so if you're reading, drop me a line, I'm intrigued. Yes, I got 6 O levels, God knows how. I also remember Barnston, PE, Moody, Leake, Topham, Stevenson, Morgan-Jones, does anyone remember Ant Conway - all the girls fancied him, he was only 21, and one of our boys got jealous and one day said 'I'm no wer sick of you trying to tek our women, outside if you dare", that was hilarious, he got out of it. Mr Bates, who incidentally I still see, was my dad's best mates at school! He used to be Alwin Peter when he knew him though, at school he was Peter of course.
Yes the film Kes is a very good reflection of Brim Boys life. Myself and all my brothers had the pleasure of going there. It was sometimes hard and disciplined but we also we had plenty of laughs and made some great mates through the years. Thwrack left during our time there and I still remember him saying he would rather teach criminals than the pupils at school. It was a hard time during the 1970s with the pit strikes and power cuts, but coming from a close knit community as Brim was in those days I can honestly say my memories of Brim Boys always make me proud to have gone there.
The terror of a mixed school met with reality, the future was to be much brighter and happier. Having lost contact with everyone from the day I left, I, like you, never looked back until today.
I was twelve years old and a pupil at Brimington Boys School. The school was on Foljambe Road and was an old Victorian building, very frugal and cramped. I was in my first year at this school and I did not like it at all. The discipline was tough and the classrooms cramped. In the spring of 1957 we moved into the new school, which meant all the items in school had to be taken to the new building. All the lads were commandeered to do their bit which involved carrying all the reference books, all the school work books from the old building to the new one. I can recall doing all this yet cannot recall how long it took. What I do remember is most of the teachers' names. Mr Kelly, Headmaster. Very heavy on ...Read full memory
I remember some of the teachers from your time. Mr Clarke was still deputy head with Mr Bates in English, Mr Petit was science and mr Peppit in metalwork.John Moody taught sports and it was a great school to go to if you were into sport. It must have been rotten if not. We became mixed in 1975 wth Hollingwood Girls and the rather rough edged school was calmed to some extent. The building itself is not missed, it was freezing in winter and boiling hot in summer. Rather like a greenhouse, which is exactly what it was, a giant greenhouse.
This school was the eptitome of a 1960s and 1970s style working class English school. If you've ever seen the school scenes in the film 'Kes' in which a young boy rears a baby kestrel then you will have seen life at "Brim boys". Some teachers didn't want to be there and made sure we knew it, most kids didn't want to be there and made sure the teachers knew it. There were some good teachers, and some very bad ones ... The teachers I can remember are: Headmaster Kelly. Teachers Wood (woodwork), Sharpe (Geography), Clarke (dep head - Maths), Bailey (Tech drawing), Croft (Rural studies), Lane (History) and a miriad of student teachers and temp staff over the years. I eventually bought myself an education to make up for the wasted years I spent there.
Buy this as an Unmounted Print
Sign-in

to save this photo to your Albums.

Collect photos, maps, memories and books of interest to you.