Burgess Hill, Royal George Road c.1960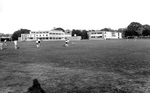 Previous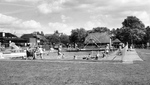 Next
Memories of Burgess Hill
I taught myself to swim in this pool. I just went day after day by myself and kept at it. Then I would have a cold shower before jumping in so that the water felt warm! You wouldn't catch me doing anything like that now.+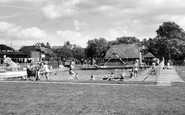 Photo shows public convenience that was demolished. And cricket match being played. Spent many happy times in 60's and early 70's here with friends from school and later as shortcut to Park Centre. Miss Fisher, the little disco bungalow out back that was all blacked out. Luminous walls and handstamps with loud music and dancing. ( and snogging !! Lol).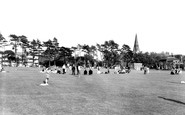 I might well be one of the kids in this picture! - In the early sixties we used to go there every day, dawn to dusk in the summer - Two sessions a day as I recall at thruppence a pop! - I am sure my mother thought it money well spent. Had my 'first kiss' in one of the buildings to the left of the pick - Jackie Aplin, where are you now?? - haha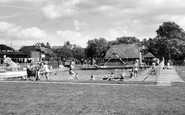 I taught myself to swim here in the 1960s. I remember it used to be 6d to get in and you were given a wire basket to put your clothes in and you changed in the wooden changing rooms. I used to have a shower (cold) before I jumped in so the water felt warm. I must have spent hours in this place and sometimes even had ...Read full memory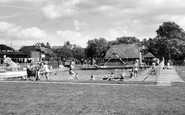 Sign-in

to save this photo to your Albums.

Collect photos, maps, memories and books of interest to you.