Burgess Hill, St John's Park And Swimming Pool c.1960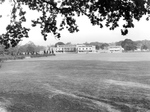 Next photo
Memories of Burgess Hill, St John's Park and Swimming Pool c1960
I taught myself to swim in this pool. I just went day after day by myself and kept at it. Then I would have a cold shower before jumping in so that the water felt warm! You wouldn't catch me doing anything like that now.+
I taught myself to swim here in the 1960s. I remember it used to be 6d to get in and you were given a wire basket to put your clothes in and you changed in the wooden changing rooms. I used to have a shower (cold) before I jumped in so the water felt warm. I must have spent hours in this place and sometimes even had money to buy something from the refreshment kiosk but usually I just swam until I got really hungry and then cycled back home.
I too remember Mrs Duckworth though she was not my teacher, my first teacher was Miss Richardson and also there was a Mrs Parrott. I then went to a class run by Mrs Donnovan, Mr Baird was head master and Ms Brown was the scary teacher, also I was in Mr Eliot's and Mr Smith's class. Of course all gone now and a housing estate I also lived on Chanctonbury Road (31) with sister Sue who also attended in Mrs Cardigan's class. I now live in Norfolk but occasionally visit Burgess Hill and also pass by Keymer Parade where my parents started a baby shop which later became a restuarant (The Jack & Jill), now an Indian restaurant. Brown's stationers and The Sunshine Cafe (4 Black Jacks a 1d and he'd still sell ...Read full memory
I was born in Burgess Hill in 1955 and lived at 18 Peartree Close. There was a rough track behind the house with rear access to garages, and we spent loads of time playing up and down this track and in the woods beyond. I used to go to London Road Primary School and remember Mrs Duckworth as my teacher. Before starting Secondary School, we moved to 155 Chanctonbury Road. There we would spend hours playing in the woods at Nightingale Lane and we would venture across the fields, crossing over the railway bridge and walking back along the tracks which would eventually bring you out by the railway station. There were a few ponds along this route where we would dabble with the art of pug sticks and usually end up ...Read full memory
My dad was the manager at this pool and I used to spend all my time here with him, until he sadly died in 1972, when I was only 8 years old. I still love swimming today and it is a very big part of my life. I would love to know if anyone has any more pictures of the pool from 1970-1972. Or if anyone remembers my father, Tom Turner. Many thanks Lynette Turner
I might well be one of the kids in this picture! - In the early sixties we used to go there every day, dawn to dusk in the summer - Two sessions a day as I recall at thruppence a pop! - I am sure my mother thought it money well spent. Had my 'first kiss' in one of the buildings to the left of the pick - Jackie Aplin, where are you now?? - haha
Buy this as an Unmounted Print
Sign-in

to save this photo to your Albums.

Collect photos, maps, memories and books of interest to you.