Burnt Oak, c.1955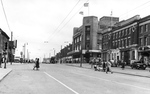 Previous photo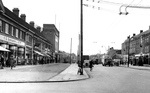 Next photo
Memories of Burnt Oak, c1955
My Mum Jean worked in Watling Ave for many years - Hairdressing. She started work in The Don around 1956. This used to be opp the station. She left and worked at Gala and then had the shop in he name for a while and it then became Bartons. I was also a hairdresser in that shop up until abt 1978 when I left to manage another shop. I was always in the shop as a very young child. It was mums way of minding me and I could make a cracking coffee by the age of 9 If anyone remembers my mum (she sadly passed 2004) or me - It would be lovely to hear from you. Mum was friends with Sheila from Blacke and Cooks florist, that was in watling ave. Her family I understood from mum had been trading when Watling Ave was a market only.
I was born in Barnfield Road 1945. Irene Postance and my brother Peter who was 3 years older. We went to Annunciation school, St Thomas's and St James. I was so scared of the Walsh sisters who taught at St James. Especially Vera! I do not think they were qualified at all just relations of Kate! Many happy memories of Burnt Oak going to the express at the top of Watling avenue with my mum for an éclair filled with cream from a machine. Walking to school in a thick green smog! All the Watling market barrows out especially at Christmas, with lanterns hanging. Hassains is about the only shop still there in the Watling now. Fords was at the top for school uniform. A lovely pie shop, so many nice shops. Eversfield youth ...Read full memory
Since my birth coincided exactly with the outbreak of World War II in the September of 1939, my mum must have felt that childbirth was synonymous with calamity; I was Mum's 'war effort'. Home was a semi-detached two-storey house in Melrose Gardens, a cul-de-sac of thirty-two identical semis in Edgware, Middlesex. Dad was a printer by trade, and during the war years Mum worked at de Havilland's aircraft factory. My earliest recollections of those years was alternately being hoisted on Dad's shoulders to "watch the fireworks" (bombing) over London from our front door, or being hurriedly shoved into the pillow-lined steel cage Dad had rigged under the living-room table. Sometimes we joined ...Read full memory
Edgware Middlesex, the cradle of my childhood,and Burnt Oak is where I went with Mummy as a special treat , we used to go into Lyons corner house for a nice cup of tea and a small treat, and it seems like only yesterday the whole family went into the coop shop to purchase an ironing board, I recall how we all stood around it in admiration.Wasn't much money about in those days , but all the love we had in our home made up for the lack of funds. That ironing board came home with us and oh how we all wanted to do the ironing just to try it out, and no more ironing on the dining room table, with the old towels underneath the hot iron. Also clearly recall a year or two earlier going to see Santa Claus, he was also at the Coop ...Read full memory
Memories of Burnt Oak
Buy this as an Unmounted Print
Sign-in

to save this photo to your Albums.

Collect photos, maps, memories and books of interest to you.