Bursledon, River Hamble c.1960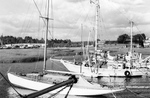 Previous photo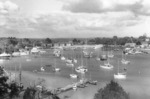 Next photo
Memories of Bursledon, River Hamble c1960
This picture is of the railway bridge over the Hamble, looking up stream from the road bridge which carried the A27 over the river. A little way to the right of where this picture was taken was the Red Lion Inn. I remember watching steam trains crossing the bridge on trains from Brighton/Portsmouth to Salisbury/Bristol in the early 1960's. Local trains were Diesel units - the line not being electrified until much later. Now there is a third bridge - beyond the railway bridge - which carries the M27 over the river!
Memories of Bursledon
I stayed at the hospital in the early 1950's. Although I was under five I have vivid memories of the place and not all good. I can remember beds out on the veranda during the day but most vividly was a sadistic nurse who wouldn't let you leave the meal table until you had eaten everything. I can remember being force feed ...Read full memory
I do not think this ever was a hospital in the usual sense. I am pretty sure it was a house called Brixedene (Brixedone?) in Blundell Lane, owned and lived in by a family called Thistlethwaite. During the war it was a children's home, although I do not know anything about who it was run by and I think after the ...Read full memory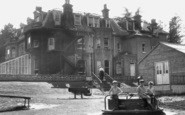 I think this was the first year I can recall of my Mother being a nurse there. When she worked nights sometimes I stayed in the room on the top floor. She worked there for many years until it closed, sadly. It was for children who were recovering from various problems and sometimes as what we would now call a hospice. ...Read full memory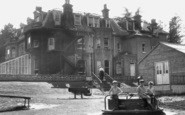 With reference to the Polish Motor Torpedo Boat houseboat in the photo ('Hippocampus/S-8/HMTB 427'), I have done some more research using the local Electoral Register (held in Winchester) and found out the following: The original owner in June 1949 was Mr. Alan Aitcheson and the boat was in ...Read full memory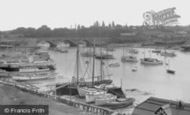 Buy this as an Unmounted Print
Sign-in

to save this photo to your Albums.

Collect photos, maps, memories and books of interest to you.