Bursledon, The Hospital c.1955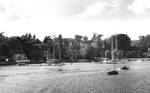 Previous photo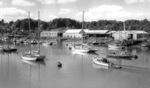 Next photo
Memories of Bursledon, the Hospital c1955
We lived in Winchester at the time . I remember being at this hospital as a small child around 1958/9 Suspect of TB . My father had been convalescing from TB and when he was able, he would visit me , I don't remember my mother coming, but I guess she had to see to my two other sisters. For some reason I can remember a room with great big jars of sweets on shelves. Or it could of been a pharmacy ! I must of shared a room with quite a few beds in, I can remember my dad giving me a little green plastic shopping bag with a bag of Toffee Crunch in. I offered the sweets to the boy in the next bed to myself. The day I was discharged, my Mother & Father had bought me a special Red dress to wear home, which was always known as the Hospital Dress.
I was in the Bursledon Hospital twice, first in 1949 and again in 1950. I was remitted there from the Childrens Hospital in Southampton; I was only 5 or 6 years old and have only vague memories of my visits. However, 2 things have stuck in my mind. I lay in a ward that was directly behind the steps shown in the photograph and remember looking out though the windows, over the garden. During my first visit, the flower garden in the lower right-hand side of the photo, was a pond. During that visit, I remember that a small boy fell into the pond. I presume that that was why it was filled in and turned into a flower garden. I also have a vague memory that on the right-hand side of the garden, looking out from the ward, ...Read full memory
I remember being in this hospital. I am not too sure of dates, but I remember the big staircase and doing work there with other children. I remember there was a thunderstorm and I ran to sit on a chair at the main table, but got shouted at to sit on my bed. If anyone has anymore information about this hospital /home, please let me know. Many thanks.
This is just how I remember the hospital which I first went into in 1955 and stayed in for 7 years. It was a marvellous place and I have many memories from those days including a visit by Billy Smarts Circus, taking my 11 plus on my own in an upstairs room, being close to death and wheeled into the hall to be more quiet, then having my going up ceremony from cubs to scouts in the grounds of the hospital. The staff were magnificent and I remember Nurse Chum who had a finger missing and Nurse Hayward who all the young boys were in love with. Here I am 58 and still here thanks to those great people.
Memories of Bursledon
I stayed at the hospital in the early 1950's. Although I was under five I have vivid memories of the place and not all good. I can remember beds out on the veranda during the day but most vividly was a sadistic nurse who wouldn't let you leave the meal table until you had eaten everything. I can remember being force feed ...Read full memory
I do not think this ever was a hospital in the usual sense. I am pretty sure it was a house called Brixedene (Brixedone?) in Blundell Lane, owned and lived in by a family called Thistlethwaite. During the war it was a children's home, although I do not know anything about who it was run by and I think after the ...Read full memory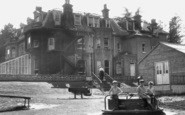 I think this was the first year I can recall of my Mother being a nurse there. When she worked nights sometimes I stayed in the room on the top floor. She worked there for many years until it closed, sadly. It was for children who were recovering from various problems and sometimes as what we would now call a hospice. ...Read full memory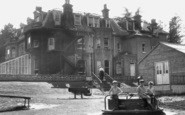 With reference to the Polish Motor Torpedo Boat houseboat in the photo ('Hippocampus/S-8/HMTB 427'), I have done some more research using the local Electoral Register (held in Winchester) and found out the following: The original owner in June 1949 was Mr. Alan Aitcheson and the boat was in ...Read full memory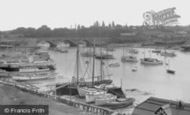 Buy this as an Unmounted Print
Sign-in

to save this photo to your Albums.

Collect photos, maps, memories and books of interest to you.