Bursledon, The Hospital c.1955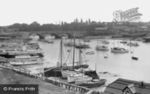 Next photo
Memories of Bursledon, the Hospital c1955
I was here in 1974 I was 10 I loved the train I played on it every day I was here for 3 months in the summer and love sneaking out to the fields to play im going to go back there one day to have a look around and take pics I have a old pic of me on the roundabout I lived in northam in Southampton when I was here and loved my stay here alan grimes
I stayed here when i was around 7 years old so around 1980 (could be 79). i was on the ground floor in a room facing lawns which had open doors on to the patio with six or 7 others. upstairs was for teenagers with which we couldn't go up there. i was there for around three months and it was a fantastic time and the staff were really nice. i even remember a staff member bringing in a big bag of action man toys and was giving them out to us one night. it must have been a summer stay as part of my memories is sneaking out with others and going round the corn fields near the river. There was a school at the back which my only memory is someone reading stories to us at the end of the day, plus a snooker table in its ...Read full memory
I think this was the first year I can recall of my Mother being a nurse there. When she worked nights sometimes I stayed in the room on the top floor. She worked there for many years until it closed, sadly. It was for children who were recovering from various problems and sometimes as what we would now call a hospice. My mother loved working there and loved all the children that went through there. I remember the steam engine and at weekends when she was working I used to go with her to play with the children there. I remember it at a lovely old building but as time went on, the NHS just left it and it started to need lots of attention.
I was here in approx November 1965 after having Rheumatic Fever. I remember being in a ward which was second on the right off the great entrance hall where we ate and if good were allowed to watch telly some evenings. I recall watching Batman there! I think it was a ten bed ward with a large cot in the bay window. The "baby's" ward was upstairs and we were sometimes allowed to help feed them. On a Sunday we had to attend a service in the hall. This was the only day other children could visit (brothers sisters etc.)
I was in this hospital as a patient at 10 years old - I dont know why. I went to school there with numerous amounts of children. I remember my bedroom was on the ground floor, just as you walk in the front door on your right, about 10 of us shared this room. I recall another ward at the back of the house with twins in a big cot that we used to take out for a walk. I remember a big train in the front garden and a big park round the back. I remember a nurse checking me everyday but I don't know why. This time in Bursledon was a mystery to me and I still dont know to this day why I was there.
I do not think this ever was a hospital in the usual sense. I am pretty sure it was a house called Brixedene (Brixedone?) in Blundell Lane, owned and lived in by a family called Thistlethwaite. During the war it was a children's home, although I do not know anything about who it was run by and I think after the war, perhaps after the introduction of the NHS in 1948, it was taken over and used as a convalescent home with some connection to the Royal South Hants Hospital. I may not have all the facts right, but one thing I do know - there was never a hospital in Bursledon. Any hospital treatment meant a trek into Southampton to the South Hants Hospital - in St Mary's I think.
Buy this as an Unmounted Print
Sign-in

to save this photo to your Albums.

Collect photos, maps, memories and books of interest to you.