Burton On Trent, Ferry Bridge c.1960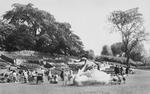 Next photo
Memories of Burton-On-Trent, Ferry Bridge c1960
I remember walking the bridge from Stapenhill grounds to get to school in Bond Street, it was the Technical High School then, but was the Burton Grammar School when my brother went in the 50s. The bridge was for pedestrians only and wow betide you if you rode your bike as it was a 10 shilling fine if you were caught. I remember walking across the bridge one bad winter, it was very icy and I slipped through the bars into the field below - luckily only about a five foot drop. I don't know who was more shocked, me or the cows!! The picture shows water under the bridge, but I remember it was fields - maybe it was flooded when the picture was taken.
Memories of Burton upon Trent
I remember my mom working at Abbey Drapery. I used to love to go in and watch the vacuum payment system. The money was put in a round tube and whoosh off it would go only to return minutes later with the change.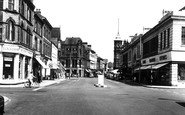 My childhood was lived in Burton and Stapenhill - 1952 to 1965 I remember fondly the swan and gardens, running up and down the beautiful rock garden steps. There was a huge willow tree between the swan and the river that hung down to the ground seemed like such a magical place to stand in with the sun filtering through ...Read full memory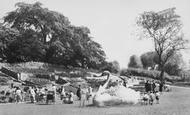 I remember the Pub in High Street just before Bargates on the River side. There was a Barrel Organ in the Alley which had a monkey chained to the organ but I can't remember the name of the Pub. Perhaps someone can remember better than me as I was only 8 years old at the time.
I remember walking from the bridge onto the ox hay as a teenager, there was a fete and barbeque during the day and a dance at night under a big marquee, complete with a wooden floor. A liitle further along the bridge were the public baths and swimming baths, we used to go along there for a bath before we had a bathroom of our own.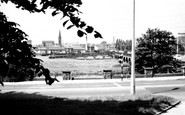 Buy this as an Unmounted Print
Sign-in

to save this photo to your Albums.

Collect photos, maps, memories and books of interest to you.