Bushey Heath, The Kings Head c.1955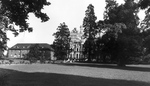 Previous photo

Next photo
Memories of Bushey Heath, the Kings Head c1955
I lived in Holly Grove House for 16 years till 1960 when we sold the house to a developer. A E Mathews used to come to parties at our house, he built four tubs house oppersite where he lived but could not afford to live there. The pub was once the coachman's house for Holly grove that was why it was attached. The house on the left of the photo belonged to Lilly Lemon who looked after me as a young boy. Happy days all round. I also knew the Rogers of the nursery garden at the other side of the Elstree rd at the top of the lane, and still am friends with his grandson.
My name was Jennifer Barnett and I attended Rosary Priory in the 1950s. One of my memories is of the nuns teaching us the 'facts of life' which consisted of being told to always wear dresses with sleeves and never to sit in the back row of the pictures .... no reasons were given. I also remember having to wear white gloves to school, having a nun at the gate to make sure we were all correctly attired. I remember a school excursion to Rome and wonder what happened to the other girls in my class. I now live in Australia and feel it is very sad to hear this building is no more - or is it?
One set of grandparents lived at the top of Little Bushey Lane, on Elstree Road. The other lived near the bottom of Little Bushey Lane. Whenever I would visit, on school holidays, I had to share my time between them, so I spent many a day walking up and down the lane, passing by the Kings Head in the mid-50s. A.E. Matthews lived on the lane, also, and his eccentricities over his protest of the lamp-post in front of his house were the subject of many a conversation by the adults in my family. I loved the lane, especially in the summer when the trees would over-hang the road and in the fall, when the footpaths would be filled with fallen leaves. Some beautiful memories of my times in Bushey Heath!
Memories of Bushey Heath
My brother and I were two of the few boys that attended Roaary Priory from 1966 to 1970. Other boys attending at that time were Martin McDonald, Keith Putnam, Mark Porter, Timothy York, Guido Alzetto and Ramses Tadros, I remember playing soccer in the lower fields and exploring the abandoed farmhouse when the ...Read full memory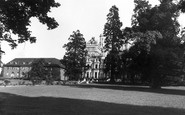 I started at Rosary Priory in 1953 when I was 8 and left at 18. I was so happy there that our 2 daughters attended the senior school until we moved to Wiltshire. When I first started at RP the only building was the beautiful old original one, but both new blocks were completed by the time I left. A few years ...Read full memory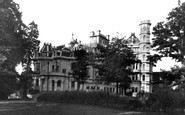 Hi, my name was Elizabeth Yeomans, I was in the same class as Zoe, Bernadette Parkes, Caroline(who was my best friend), Dawn , Kate, Laura and Angela. Would love to hear from anyone who was also there during this time. I was 6 in 1966 when I joined the junior school, and left at the end of year five in the high school, as we moved to Suffolk.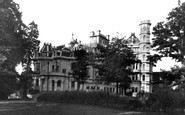 I attended Rosary Priory from September 1960 until July 1967 and was known as Shirley Hayward. I now use my full Christian name and have done for many years which is Shirley-Anne. I loved every minute (except for the Maths lessons - I was hopeless but Geometry was a doddle - strange that!) I didn't want to leave. ...Read full memory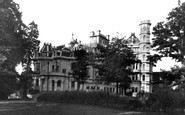 Buy this as an Unmounted Print
Sign-in

to save this photo to your Albums.

Collect photos, maps, memories and books of interest to you.