Dewsbury, Town Centre c.1960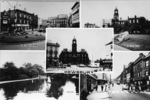 Previous photo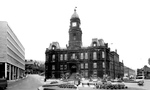 Next photo
Memories of Dewsbury, Town Centre c1960
Frank; Did you live on the other side of us? We lived in Kaye Street and a family of Firths lived back to back with us. If it's the same family, your sister was Myrah and she was the same age as me. My dad and me lived with the Majors; Alice & sons Leslie and Douglas. I live in Portsmouth now.
I remember the Teachers at 'Central very well. Mr Wilson headmaster; Mr Barber, Maths; Mr White ,English Mr Cass, Allsorts. Mr Stead, PT and many more.
can anyone remember what brewery had the ravensthorpe hotel huddersfield road ravensthorpe in the 60s 70s i seem to remember it was sam smiths ? but i cant remember. could someone help.
I have a old photo of a shop in Daisy Hill belonging to E Brindle - it was a sadlers, it could be 1920's but I am not sure. If anyone would like it please let me know. There is two gentlemen in the doorway, could be the owner.
I loved the shops that were around - J&BS Hodgsons, Wilkinsons and many more. Dewsbury had plenty of shoe shops. I started working at Freeman Hardy Willis - my first job after leaving school in 1969. I enjoyed a weekly treat in Caddys - I can see it now. Having left Dewsbury in 1985 and only going back on rare occasions to visit family and for funerals and weddings, I was saddened to see how it had gone down in the last 3 years - shops empty, the market wasn't the same - very sad fond memories. I will remember it has it once was.
I remember Caddy's, that was our weekend treat. I tried to get one of the rounda seats that went around a pillar. The ice cream in pop was my favourite "ice cream soda" with the long glass and long spoon. Then a look in the toy shop window next door. Can't remember the name of the toy shop.
I was born in Ravensthorpe in 1937, went to school at St Saviour's infants and the Secondary Modern school until I was 15 years of age. I began working at Hartley Bros, a leather mill at the bottom of Scout Hill, later I worked at MKM mills down Calder Road. I joined the army in 1956 in the KOYLI along with many other lads from the area and served in Cyprus and Germany. I returned to the area upon de-mob and married my present wife who comes from Clckheaton, our first home was at Ravensthorpe Road, Thornhill Lees and we later moved to homes near Crown Flatts and later at Shawcraoss. In the 1960s Dewsbury was a thriving town and far cleaner than it is at the moment. One of my fondest memories is the twice a week ...Read full memory
Just to correct Richard Parkin. During our time at the Vic. between 54-58 The headmaster was Mr Sleigh (without the T) who came from Halifax each day, but the hardest (strictest) teacher was Mr Moorehouse, followed by Mr Smith the rugby and metalwork teacher. But by golly, it was a good school for future men!!
I too remember the tall fizzy Ice creams at Caddy's, I suspect they were simply called Ice Drinks or something. As someone else mentioned (but I can't find it now) The Parlour was between Long Causeway and Westgate, it is now Tithe Barn Street and is the loading bay for the shops on Long Causeway. I seem to remember it was a tiny cobbled street in those days. There was a passageway down the side of Caddy's which also passed the Public toilets for access onto Long Causeway. Even now I can still taste the Ice cream when I close my eyes... as for it re opening?? I suspect old man Cadmarteri will be long gone by now... I recently found this on youtube.. enjoy. http://www.youtube.com/watch?v=8_PRwt1yd4E And also this on Pathe News http://www.britishpathe.com/record.php?id=42594
I remember having swimming lessons with school at the old Dewsbury baths. I know it later became a squash club because I had my wedding reception there! I live in Brighouse now but don't get over to Dewsbury very much, so I don't know if the building is still there.
My memories of the old Dewsbury swimming baths (at the back of the police station) feels like memories from an earlier era older than myself. I used to visit the baths with my school once a wk for swimming lessons/excerise. I was always fisinated with the internal structure/decor and thinking back to the rows of changing rooms either side of the pool, with their swinging three quarter doors makes me shiver. What trust we had in each other back them to simply leave our belongings in those, while we went off to enjoy ourselves. There was the fancy steel railings too that made up the front of the balcony above the ground changing rooms, think there was changing rooms above too. Are the baths still in use, I know the ...Read full memory
The island in the middle of Market Place had a unique feature. Between the two zebra crossings on the island each Saturday was a man with a barrel organ. The music could be heard all over the town centre. You had to walk past it when you wanted to cross the road. This lended itself to the man with the organ collecting money for charities. I used to like listening to the music and was fasinated with the organ. The people who used to shake the collecting cans scared me though. I probably thought they would take my pocket money (1 shilling) although they never did. I used to spend my pocket money in Caddy's ice cream parlour on two scoops of ice cream whith fizzy pop in a tall glass (can anyone tell me what they were ...Read full memory
Buy this as an Unmounted Print
Sign-in

to save this photo to your Albums.

Collect photos, maps, memories and books of interest to you.