Dover, The Beach 1890
Memories of Dover
I can look back to sunny days and my uncle helping us to collect fools gold at St Margaret at Cliff. Auntie Alice would pack up a picnic and we would take a ride in the car (I can't remember what type) and we would sit ...Read full memory
My grandparents, Jabez Smith and Kate his wife owned the post office in Coombe Valley Road, formerly Union Road, before and during the war. Their daughter Rose Moss (my Mother) ran it from the age of sixteen. They also owned and ...Read full memory
I understand my grand father workedin,orpossibly owned a fishmongers and or grocers aroundabout 1900 can anyone confirm this please and where was it. Was it his own shop or was he an employee Does it still stand ,do any photos exist of it Thankyou John Wells
I remember this as being the place to go when we were out for the evening. We used to drink vodka and lime and think we were really cool. It used to get packed out and was really modern and trendy in it's day.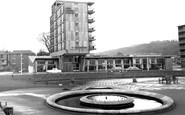 This photo is available to buy in a range of sizes and styles, including framed and on canvas.
Sign-in to save this photo to your Albums.
Collect photos, maps, memories and books of interest to you.