Drayton, Havant Road c.1955

Previous photo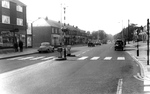 Next photo
Memories of Drayton, Havant Road c1955
When I saw John Cowan's posting, my eyebrows shot upward, since it so happens that 199 Havant Road was also my first home. I was born on 7 January 1935 and we lived at The Cottage (most houses had names in those days) until my father was posted elsewhere early in wartime-1941. Because I have lived in Canada for the past 55 years, married to a Canadian, my visits to Drayton have not been as frequent as I would have liked. But a few years ago a friend drove me past the much-changed house, now a seniors' residence, and dryly commented that "you should come back and live here, so that you can finish your days where you began". We laughed and speculated whether I would be able to get my old room. Anne Joseph – Montreal, Canada
I was born on 6th feb 1944 at 199 Havant Road, Drayton and had a happy childhood there with my 5 sisters and parents. My father was a painter and decorator and we lived in the house until the late '50s. I believe the house is now a home for the elderly, how things have changed. I went to Portsdown school and the to the high school between Drayton and Cosham.I now live in Northern Ireland but have great memories of the area and going to the George to get my uncle his quart of mild and bitter.
Memories of Drayton
I worked in the National Provincial Bank which was in the parade of shops in DrYton from about 1960 to 1963 when I married I particularly remember Maureen Wood who also worked there and John and Mr Mimmack who was the deputy manager with Mr Whelan the manager if anybody remembers those days would love to hear from you my maiden name was Bowyer and married Stuart Ellis.
Anyone remember the Friday night dance nights? Local Portsmouth groups use to strut their stuff in here. Always crowded and the music from the guitars was LOUD. When the dance finished it was over to "Fishy Francis" fish and chip shop for a bag of chips and if you were old enough a pint of beer in the New Inn next door. Happy Days!
When I saw John Cowan's posting, my eyebrows shot upward, since it so happens that 199 Havant Road was also my first home. I was born on 7 January 1935 and we lived at The Cottage (most houses had names in those days) until my father was posted elsewhere early in wartime-1941. Because I have lived in Canada for the past 55 years, married to a Canadian, my visits to Drayton have not been as frequent as I would have liked. But a few years ago a friend drove me past the much-changed house, now a seniors' residence, and dryly commented that "you should come back and live here, so that you can finish your days where you began". We laughed and speculated whether I would be able to get my old room. Anne Joseph – Montreal, Canada
The year that this photo was taken was 1951, when we opened the cafe. It was run by my father, Wally, and my mother Monica. My sister Marilyn served in the cafe later. Previously it was a china and glass shop and before that, during the war, an antique shop run by my mother.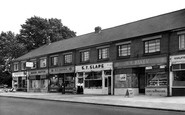 Buy this as an Unmounted Print
Sign-in

to save this photo to your Albums.

Collect photos, maps, memories and books of interest to you.