Hendon, St Mary's Parish Church c.1955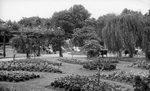 Previous photo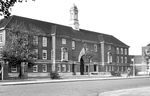 Next photo
Memories of Hendon, St Mary's Parish Church c1955
My grandmother's funeral was in April of 1959; she used to live at 2 Johns Avenue from1910 to 1943 when she moved to her daughter's house in Harrow. My grandfather, John Regan, was also buried there in July 1934, in the very early years he was a brick-layer and worked with stone doing work on the walls at the front of the church. My parents married there in July 1935; through to her later years I would go with my gran to put flowers on his grave. It was with very great sadness that on visit from New Zealand in 1987 to find my grandparent's grave had with a number others gone, the vicar I spoke to, to see what I could find out (reasons why etc...), took little or no interest in my questions. A local hearing ...Read full memory
I was baptised in this church and belonged to the Youth Club. The Vicar at that time, was Rev. Welch, and 'Doc' ran the Youth Club. After church on Sundays we all used to go into the pub for a shandy, including the verger. I have the photo above, on my wall here in my home in New Zealand....I noticed that some of the lovely buildings next to the church have been removed and the trees have gone.
Memories of Hendon
In the 1900s the site of the 'Fountain' (Frith H397067) was then known as 'The Burroughs Pond' and was/is sited at the crossroads of The Burroughs, Station Road and Watford Way, back then it was open ended at ground level so that horses could stop there for a drink; if they were towing a cart then that could be ...Read full memory
During the Second World War 'Lord Haw-Haw' announced over the wireless from Germany that the clock atop of the Hendon Technical College was showing the 'Wrong Time!'.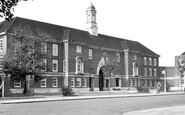 Even though I was born a good ten-years after the second world war, Hendon was my home town. I loved it there. I attended Algernon Infant and Junior school, then onto St Mary's in the Downage. I always loved Hendon, but on a visit there to attend a funeral, I was shocked to see the state of the town. There was no feeling of ...Read full memory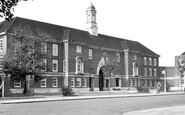 This photo would have been taken at the north end of Brent Street just below where the road divided to go round some big old trees. It is looking towards Parson Street beyond the junction with Church Road and Finchley Lane. As a schoolboy in the early 1960s, I would catch the 83 bus home from the stop on the left-hand side of ...Read full memory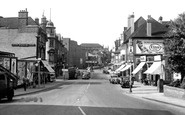 Buy this as an Unmounted Print
Sign-in

to save this photo to your Albums.

Collect photos, maps, memories and books of interest to you.