Ickenham, St Giles' Church c.1965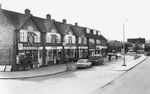 Previous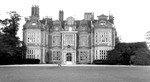 Next
Memories of Ickenham, St Giles' Church c1965
Memories of Ickenham
This picture is just too small to see if my parents' shop - Kolordek - is illustrated in the row. We moved away around 66/67. Vaiseys had the grocers next door - I was friends with their daughter, and the grocer's next to that changed hands - name escapes me - I was friends with their daughter, too, whose aunt was ...Read full memory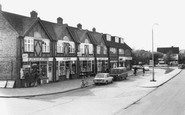 We moved to Ickenham in 1950, I was three, we lived in Greenacres Avenue, only partially completed then, a cowfield next to our house to where Breakspear Road South is now, St George's Drive was not built. We could see the GWR from our front bedroom. Attended Breakspear Primary School, walked there daily across the ...Read full memory
..or 1959 to 1964 The other grocers on that parade may have been the DeHond family, I think that they originated in Belgium? A very pleasant, kindly, hardworking family. I used to help out by driving their deliveries in their little Austin A35 van to their customers in the village. I still miss Ickenham, very, very much !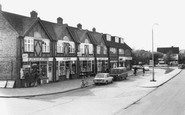 We moved to Ickenham in early 1960s and attended the parish church of St Giles. It is a very old church, once belonging to the estate of Swakeleys House, and is on the corner of a very busy T junction, but when inside it is very quiet and peaceful with memorials to the Vyners family on the walls. I sang in the choir on Sundays. In 1972, my husband Bob, and myself were married here. It was a very hot day for the middle of March and our family and friends came to share our celebration. We walked through the churchyard to our reception in the Church Hall. Later in 1975 our son, Mark, was christened here on a warm June day. We lived in Ickenham for over 10 years and since we left many more houses have been built as there is easy access to commute to London on the Underground.
Sign-in

to save this photo to your Albums.

Collect photos, maps, memories and books of interest to you.