Llanbradach, Main Street c.1955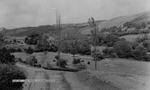 Next photo
Memories of Llanbradach, Main Street c1955
I can remember celebrating the Coronation with a party, the streets were decorated with flags, it was a memorable day and photographs were taken, which I still have. I can name nearly everyone, friends and neighbours. I no longer live in Llanbradach, but I visit my mother every week, who still lives in the same street where we were both born, Oakfield St. My mother's name is Ellen Rowsell and she celebrated her 94th birthday on Valentine's Day. My mother can name all her neighbours who lived in the street when she was growing up. Times have changed and you don't get to know your neighbours as we did.
I was born in Merthyr Tydfil but my grandparents lived in Rees Terrace. My grandfather, Hugh Price Watkins, was the St John Ambulance driver for the pits. I lived and went to school in Llanbradach for about three months while my mother was in hospital. Whenever there was an accident in the mines, the phone would ring in grandad's house and I would be told the location of the accident and would run as fast as my legs would carry me to the garage right next to the bridge by the station. After picking up another man, I would accompany them in the ambulance to the accident site and would often ride in the back of the ambulance with the injured pitman, not something that Health & Safety would allow now. Without ...Read full memory
The High Street is where I was born in 1955. In the street was the Working Mans Club, the Cinema and 'Jeffrey's' (the sweet shop where my brother and I used to go and spend out pocket money on a Saturday). Once a year all the children would go to the Working Mans Cub for an orange, thrupenny bit and a stamp on the hand, I cannot remember the reason for it now but I remember it was special. My brother and I used to go to the cinema on a Saturday, it cost us 6d to get in and we had 6d for sweets. The mine closed and we moved but I still have lots of very happy memories.
Memories of Llanbradach
Buy this as an Unmounted Print
Sign-in

to save this photo to your Albums.

Collect photos, maps, memories and books of interest to you.