Seaburn, The Esplanade c.1960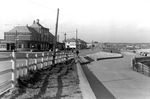 Previous photo
Memories of Seaburn, the Esplanade c1960
I spent most of my leisure time at Seaburn in the 1950's and early 60's.It used to be a wonderful place to visit,the Seaburn Hotel,Popular Cafe,Notarrianis (we spent a lot of time here drinking hot orange).The fairground was a big attraction in those days,it was always busy.Ice cream,candy floss ,shell fish ,all sold from little chalets on the front.The Seaburn Hall used to be a great venue,Cat's Night Out with Billy Carr and his wonderful orchestra.So many wonderful memories ,wouldn't have missed it for the world,there was nothing to equal Seaburn,would love to do it all again. Jean Elliott (Nee Snowball)
Memories of Seaburn
I spent most of my leisure time at Seaburn in the 1950's and early 60's.It used to be a wonderful place to visit,the Seaburn Hotel,Popular Cafe,Notarrianis (we spent a lot of time here drinking hot orange).The fairground was a big attraction in those days,it was always busy.Ice cream,candy floss ,shell fish ,all sold from little chalets on the front.The Seaburn Hall used to be a great venue,Cat's Night Out with Billy Carr and his wonderful orchestra.So many wonderful memories ,wouldn't have missed it for the world,there was nothing to equal Seaburn,would love to do it all again. Jean Elliott (Nee Snowball)
My memory is of living and working at The Popular Cafe which belonged to my parents Jim and Evelyn Arkle. The cafe can be seen on the photo of the Esplanade, it is the first building on the right of the archway. I can see the windows of the room in which I was born. They had the cafe built inthe 1930s and we lived above the ...Read full memory
I had never been to the north of England, I am a Cockney London girl, four years ago I met my angel of the north, I came to Seaburn where he lived, I love the place and the people, for the first time in my life I felt a sense of contentment. I walked along Roker beach, Sea Road, I adored the little shops there, I ...Read full memory
Hi Ann! I remember your cafe and Jim and you very well. Just returned to UK after 33 years in South Africa. How is your memory? The name is 'Cliff' Clavering. I'm now living near Cambridge. If you see this give me a call on 01353 864 428.
Buy this as an Unmounted Print
Sign-in

to save this photo to your Albums.

Collect photos, maps, memories and books of interest to you.