Wellingborough, Silver Street c.1950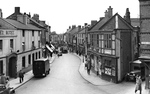 Previous

Next
Memories of Wellingborough, Silver Street c1950
I lived in Wellingborough from 1952 to 1971. My Father was J N Clark, and with my Mum owned and ran the General Store on Weavers Road until 1960. Mum and Dad took me to see my first film at the Silver Cinema on Silver Street sometime around the mid fifties. The film was 'Peter Pan'. I don't recall much about the inside of the cinema except that, looking back now, it was probably quite small. The outside of the cinema was painted white and, as I recall, seemed to have a large arched portico. I really miss those wonderful days. When I return from time to time to the old town I am not at all impressed with the changes made to modernise the town centre and surrounds. Stan
Memories of Wellingborough
My family lived in Wellingborough in the 1960's. I went to Freeman's Endowed School and later to the Grammar School. We were regular attendees at All Hallows Church and I was a choirboy. At some time in the 60's (early - mid) we hosted an Italian refugee for a holiday. I think it was part of a ...Read full memory
I remember my dad taking a photo of me and my two sisters at the foot of the statue back in 1962. It looks so much smaller now. What fond memories we had! I enjoyed feeding the swans as well as the little ducks. I am coming back one day. Even though I am an American, England has always been a big part of me.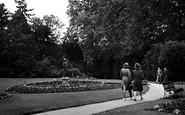 We were taken from Leicester on a Sunday School Outing to the Zoo Park. I have very little recollection of the place as I was quite little at the time! I do remember that we were given 'high tea' for which we were offered a choice of fish and chips or ham salad. I also remember being bought an embroidered badge ...Read full memory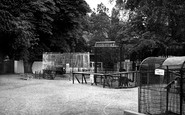 My family moved to 121 Midland Road during the winter of 1946 as my father worked in a local paint factory till 1948. There was a huge monkey puzzle tree in the front garden. I was 7 and my sister was 10. We loved that house. We used to belong to the Boots Booklovers library in the town and were ...Read full memory
Sign-in

to save this photo to your Albums.

Collect photos, maps, memories and books of interest to you.