Large-scale 1:10,000 city maps of Edinburgh and Liverpool from the 1850s allowing you to explore cities street by street. Fascinating, attractive and informative, these sheet maps provide countless insights into the history of these popular cities, revealing what has changed and what has stayed the same. The past is all around us, waiting to be rediscovered – these maps help point out the way! There are 2 City maps.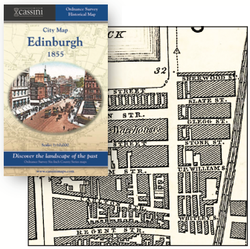 About our City Maps
Our detailed 1:10,000 folded city maps are currently only available for Edinburgh and Liverpool. They detail the centres of these locations allowing you to explore them street by street.
These maps are available in the following 5-Map Boxed Sets
These Boxed Sets feature:
Five large-format maps revealing the city's development over more than a century.
High-quality reproductions of Ordnance Survey's One-Inch Maps enlarged to 1:50,000.
Details street map of the city centre at 1:10,560.
City Maps (1850-1855)

Shopping with us