Frith Coasters
Christmas Delivery
It's now too late to order tableware in time for Christmas. Orders can still be placed, but they will most likely arrive after Christmas or in the new year.
Dispatch times for tableware
Please note, due to extended manufacturing times, any orders for tableware placed between now and the 6th January will not be processed until early 2020. This means that orders won't be dispatched until the latter half of January.
Featuring favourite Frith photos
Custom printed melamine Coasters with your choice of nostalgic photo or photos from The Francis Frith Collection. Bring back memories for your family and spark nostalgic conversation at coffee time or with your dinner guests.
Above are sample photographs only.
Please note that Coasters feature the town name and year of the photograph along the bottom.
Your
Coaster

Choice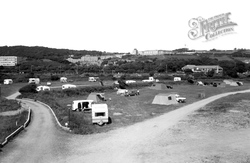 Aberystwyth, the Camp Site 1969.
(ref A14410)
Have you seen our Placemats?
Our generously sized Placemats add a finishing touch to your dining table and creating a talking point that's as unique as you are. More
About our Coasters
Photo colour:
Printed Black & White
Orientation:
Available only for our landscape-oriented photos (those that are wider than they are tall).
Availability:
Hand made in the UK to your order
Delivery:
Up to 14 working days (Express delivery is unavailable).
Returns:
Our Tableware items are printed to your specific order and are non-refundable, unless faulty.
Finish:
Durable, long lasting melamine.
Backing:
Felt
Care instructions:
Wipe clean only. Max temp 140° C (280° F).
Thickness:
5 mm
Coaster size:
110 x 90 mm (approx 4" x 3.5")
You might also like:
Take a look at our other nostalgic photo gifts and keepsakes.