Historic Maps of Repton and the local area.

Read and share your memories of Repton itself or of a particular photo of Repton.
I j oined the Navy in 1947 along with one Ginger Cooper,who came from Repton. On visits to his home during leaves his family were very good to me,[ food and things]. His Dad worked at the School. Ginger claimed the Drum Major of the school band could toss the Mace over the Arch and catch it on the other side!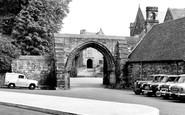 My late father, Tom Jenkinson, was the village policeman in Repton from the early 50's until near his retirement in 1973. This photograph shows his car parked with others by the Arch. The old Ford Squire 60ARB.. I was very surprised to find it as I was working on the Frith jigsaw of this photograph!!