Pickmere, The Lake c.1955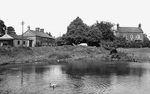 Next photo
Memories of Pickmere, the Lake c1955
My memories are of living at 37 pickmere lane from 1969 age 7. My mum Beryl Owen still lives there now and I still live in Wincham. I will always remember the "bob bob bob" of the motor boats which I could here from my bedroom window. Mums and Dads house backs on to two fields and then the lake below it. This was my playground for a lot of my childhood. I too remember the fairground, the rowing boats and motor boats. I also remember being on the big boat which I think was called Queen Anne ? I was taken on it as a 4 year and wanted a wee, so had to do it in a bucket in front of all the other people on the boat. Not a memory easily forgotten ! I remember the ghost train, the carousel and slot machines you needed ...Read full memory
I remember long bus rides to my Auntie Molly and Uncle Harry's house, going with my grandad, who was well known around there - He is who I'm trying to gain information of, as my son is interested in his Great Grandad. I have a paper cutting with Samuel Yarwood on Pickmere Lake rowing, a very tranquil picture, and I remember the long days I spent in Auntie Molly's garden picking fruit and apples from her trees, the smell of fresh baked bread and pies, and riding bareback on horses at a local farm. Can anyone remeber Samuel Yarwood? He was an ex soldier in the Cheshire Regiment, he fought in both wars, joined the Police Force and became Det Inspector of the Manchester Police Force, later a publican, a lovely ...Read full memory
I remember Pickmere Lake (pond) where I and my buddies use to bike to with home made fishing rods tied to the crossbar, you could hire a row boat and get the real feel of lake fishing LOL!! Our Mums packed us off with butties and crisps pop was a treat. they assumed we were going to the park for the day, but we off on an adventure. It was a LONG bike ride and our mums never knew at first that we were out so far biking on a main road to Cheshire. I am now expat living in Pickering ON Canada for 28 years Memories of long ago. Chris I wonder what it looks like today?
I used to spend my w/ends and school hols at pickmere in the 1950,s ,I used to hire out boats for jack spencer they were the blue and white rowing boats. his boat shed is hiddenby the tree in the foreground,his house is the white one above the tree, the boats in the midground were owned by the Egletons mum dad and two boys, the far distance was cheethams fair, I used to fish behind cheetham moared motor boats to catch small roach for live bait we used them on nightlines that we put out up the lake at dusk and rowed out to collect next morning ,we normal caught 5 or 6 large eels that made very nice eating, we also caught lots of large bream and plenty of perch. I have broken the ice on the lake many a winter and gone in ...Read full memory
Memories of Pickmere
Buy this as an Unmounted Print
Sign-in

to save this photo to your Albums.

Collect photos, maps, memories and books of interest to you.