Aldershot, Manor Park c.1955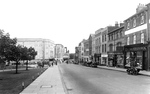 Previous photo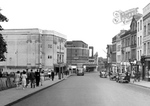 Next photo
Memories of Aldershot, Manor Park c1955
This picture was taken before they put the railings round the pond. One Sunday on my way home from Sunday School at Christchurch, I was feeding the ducks and my Bible flew out of my hand. I tore the back of my leg on the barbed wire on top of the iron railings as I climbed over to get it back. The fair came to the park and there was a wonderful playground at the top and the Hero's shrine at the St Michael's end. The bowling green and tennis courts were at that end too.
In 1944 my mother and I moved from a two bedroom basement flat in Grosvenor Road at the top of the town, to Chrismas Avenue, a three bedroom semi-detached, that connected between Ash Road and Newport Road. My father was away with the war in North Africa. I soon made firm friends with the Chismas Place gang.... the Place being a small cu-de-sac off the Avenue, that had many more interesting children living there. The Manor Park was a mere hop, skip and a jump away for the Chrismas Place boys and girls, with just one dangerous main road, "The High Street" ,to cross which sadly did claim one of our number...David.... a highly priced lesson was learnt by us all. But the Manor Park was our teacher ...Read full memory
was walking through Manor Park where it was a common occurrence to see red squirrels right next to the main entrance. We often walked through the park on our way to the swimming pool which was quite a distance after leaving the park. Ducks swam on the pond in the picture above; they were mainly mallards and frequently we took bread to feed them. I think that Manor Park was my introduction to the British wildlife in which I have had a keen interest as long as I can remember. Manor Park was the venue where the annual fun fairs put up their stalls, and many a time I attended the circuses that put up in the park too. There wasn't all the fuss then that there is now about animals in circuses and I ...Read full memory
Memories of Aldershot
My mother and father were married in St Andrews garrison church in 1944 Mum was a cook in the NAFFI and my dad was stationed on the camp after coming back from France following Dunkirk with damage to his legs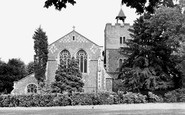 In 1956 I was 8 years old and I had to have a minor operation at the Cottage Hospital. I remember it was warm and clean and I was treated so well by the lovely nurses; I didn't want to go home. Actually, my mum didn't come and collect me when I was ready to leave, they had to call at my house and ask her to take me home. I felt sad leaving the hospital, it was better than living at home.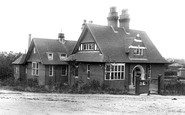 I used to work in this pub with my sister. It's 4 walls have set the scene for many a drama! It was a great pub back in the day - and excellent fun on Airborne Forces Weekend (not so much fun for out of towners, I'd imagine!) LOL!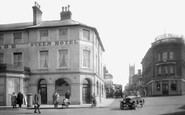 I used to swim here every summer, one of my best memories of relaxed swimming, the 'Slippery dip' slide and sun bathing. I remember there was a canteen where we used to buy icecreams and wandering around the grassey grounds - This made the 70s summer for me!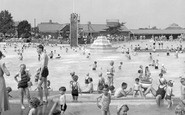 Buy this as an Unmounted Print
Sign-in

to save this photo to your Albums.

Collect photos, maps, memories and books of interest to you.