Brynmawr, Semtex Factory c.1965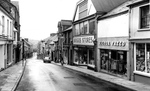 Previous photo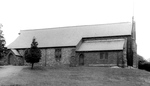 Next photo
Memories of Brynmawr, Semtex Factory c1965
My father (Howard Case) worked on the Vinyl section and was a union rep. His boss was Tom Bailey and the clerks were Betty Powell and Sue. I worked in the Post Room for approx 18 months with Maisie Jones and then transferred to the Shipping Department. My boss was Geoff Bickell until he sadly passed away in his car, in the car park one lunch time. I remained in the Shipping Department until the very sad day when Semtex closed down. They were very happy days. A lot of friendships were made and still remain.
I worked in the factory for six months in 1962 as part of a management training programme with Dunlop. The work was mainly the production of vinyl asbestos tiles but there was a unit for making rubber underlay. This was a hell hole where ammonia fumes were rife. For a while there was an attempt at diversification in producing fibre glass rod blanks, suitable for fishing rods. It was a friendly place and I had lodgings with Alf and Doris Sillman, a lovely couple. Geoff Brickell was the Export Manager, with a hobby of wood turning. I still have a bowl he made. The factory had a very good male voice choir. I don't think any of them could read music but they had the Welsh innate sense of harmony. There were two top ...Read full memory
Memories of Brynmawr
In 1900 my grandfather WILLIAM HARTSHORN from WORCESTER STREET married HENRIETTA JAMES from KING STREET. I am researching my family and would like to know if there are any relatives still living in Brynmawr or surrounding area.I would be grateful for any info. that you can provide.
I have very fond memories of Brynmawr. It was my fathers family home. His name was Len Purslow. The family lived in George st. As a child until the age of 14 every year we visited for two weeks in the school holidays. We stayed with my father's brother and sister who's names were William and Violet Purslow. They lived at ...Read full memory
I think overall I enjoyed my time at the comp. It had its bad times, Billy Raybould, Welsh master, I hated him, he was a mental and at times a physical bully. And him a Welsh International to. Ended up wagging his lessons for ages, he was told I'd already gone to Brum. It had to end, and I was collared, got what I ...Read full memory
Brynmawr, my home town, although I haven't lived there for nigh on 40 years, it's still home. I have good and bad memories of Brynmawr. I was always regarded as a blacksheep, rebel, so the bad memories are of my own making. But thankfully, I've matured. Anyway, the synagogue in Bailey Street was renovated by my dad and his mate, ...Read full memory
Buy this as an Unmounted Print
Sign-in

to save this photo to your Albums.

Collect photos, maps, memories and books of interest to you.