High Wycombe, The River Wye And Queen Victoria Road Bridge c.1955


Previous

Next
Memories of High Wycombe, the River Wye and Queen Victoria Road Bridge c1955
Dear Sir/Madam. I am at present researching my childhood days at 86,Easton Street Boys Hostel, High Wycombe. I do remember walking to school with other boys alongside the Wye River. The name of that school escapes my memory. Unfortunately my parents were in the army during that period so a visit was few and far, the hostel authority's address at that time was 87, East End, High Wycombe. All info I have gathered from London Archives 1995. I was then a resident of Denmark so letters and the odd journey to London were few, but I acquired some faded copies of aerial photos and scraps of written material. Fortunately with my Windows 7 lap-top & google earth I can move faster and photos. Alas I moved (like ...Read full memory
Memories of High Wycombe
my grandmother lived here during WW1. Alexandra "Andy" Carrington,daughter of Charlie Carrington, Marquis of Lincolnshire. The letters written to her by her serving soldier husband, Captain William Llewellen Palmer are published on Amazon "letters from the front, Captain Palmer's eye witness account of The Retreat from Mons 1914" charlie llewellen palmer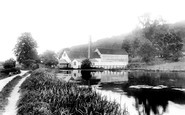 Went shopping on these streets many times in the 1960's, was happy to see when visiting in 2012 that not much has changed.
I am writing this on behalf of my husband Tim Langridge (he doesn't do computers) He moved to High Wycombe in 1945 his father had a Dairy in Mill End Road. He went to Lyndhurst Kindergarten School until he was 7 then went to St Davids College opposite the Station until he was 11 then went to Mill Road School until he ...Read full memory
Mike Pusey is right about the Technics but I was the original drummer.Bruce Moore was a guitarist and Colin was also on guitar.Only Mick stayed on because the rest of us were too poor to buy the expensive equipment to go to the next level I would be very pleased to hear from any of the original members on freycr@hotmail.com Chris Frey
Sign-in

to save this photo to your Albums.

Collect photos, maps, memories and books of interest to you.