High Wycombe, The River Wye And Queen Victoria Road Bridge c.1955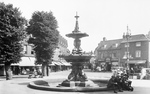 Previous photo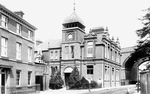 Next photo
Memories of High Wycombe, the River Wye and Queen Victoria Road Bridge c1955
Dear Sir/Madam. I am at present researching my childhood days at 86,Easton Street Boys Hostel, High Wycombe. I do remember walking to school with other boys alongside the Wye River. The name of that school escapes my memory. Unfortunately my parents were in the army during that period so a visit was few and far, the hostel authority's address at that time was 87, East End, High Wycombe. All info I have gathered from London Archives 1995. I was then a resident of Denmark so letters and the odd journey to London were few, but I acquired some faded copies of aerial photos and scraps of written material. Fortunately with my Windows 7 lap-top & google earth I can move faster and photos. Alas I moved (like ...Read full memory
Memories of High Wycombe
my grandmother lived here during WW1. Alexandra "Andy" Carrington,daughter of Charlie Carrington, Marquis of Lincolnshire. The letters written to her by her serving soldier husband, Captain William Llewellen Palmer are published on Amazon "letters from the front, Captain Palmer's eye witness account of The Retreat from Mons 1914" charlie llewellen palmer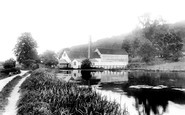 I was born in 1949 at home in West Wycombe Road and lived in the area until 1969. My family owned one of the two Corn & Seed Merchants businesses called Jones and Rivett Limited in Oxford Street and Dovecote Mill on the Dovecote Lane. I went to school at West Wycombe Primary and Wycombe Technical High School ...Read full memory
Dear Sir/Madam. I am at present researching my childhood days at 86,Easton Street Boys Hostel, High Wycombe. I do remember walking to school with other boys alongside the Wye River. The name of that school escapes my memory. Unfortunately my parents were in the army during that period so a visit was few and far, the hostel authority's address at that time was 87, East End, High Wycombe. All info I have gathered from London Archives 1995. I was then a resident of Denmark so letters and the odd journey to London were few, but I acquired some faded copies of aerial photos and scraps of written material. Fortunately with my Windows 7 lap-top & google earth I can move faster and photos. Alas I moved (like ...Read full memory
I have many happy memories of High Wycombe as it was where I met my wife in 1990. We were married in 1992 and lived at the RAF Camp at Naphill. We also spent some time living in Booker Lane and our neighbours were a lovely couple mother and daughter Nora and Sylvia Barnes. Sadly, they are both now deceased but we visited them on many ocassions even when we had left the area.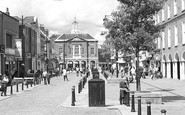 Buy this as an Unmounted Print
Sign-in

to save this photo to your Albums.

Collect photos, maps, memories and books of interest to you.