Ilford, Ilford Lane, The Market 1948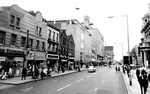 Previous photo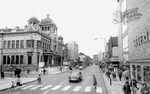 Next photo
Memories of Ilford, Ilford Lane, the Market 1948
Hi there. I'll always have fond memories of Valentines Park, those beautiful swans and Canadian cygnets at the Cranbrook Road end, Gants Hill Odeon, library, the bird cage in Valentines Park, the boat lakes, the brass band on a Sunday afternoon in Valentines Park, Valentines Park lido, walking down Ley Street, Plesseys and those yearly Guy Fawkes nights with their perennial cartoons before the fireworks. My second book No Joe Bloggs is now available at Amazon and Waterstones online market place. No Joe Bloggs is my memoir, funny, moving, warmly nostalgic about the 1950s, 60s and 70s and richly lyrical about lovely Ilford, Gants Hill and Newbury Park, London, the West End, East End and the world. Thanks Joe Morris
The time was late 1950s early 60s. At the time I was on drums and vocals with local Ilford groups. Most Saturday mornings would find me with a mix of local band people chatting in Ron's basement with Chick and Joey Dormer working for Ron( who usually was upstairs with the vinyls). Joey, a brilliant technical drummer (liked Louis Bellson and Art Blakey, etc) would demonstrate stick work and finger and wrist exercises. Other visitors included the late Steve Marriott (Small Faces) and my pal Mick Bick, another drummer whom I regularly supported at the Thomas a Becket south of the river. Others who came to jam until told to "turn it down" included members of TR & the Castaways, BP & the Tremeloes (Barking ...Read full memory
The Pantomime Cinderella was performed at the Ilford Hippodrome from Dec 28th 1942 – Jan 4th 1943. When the pony hauling Cinderella's coach stopped on the stage it went and dropped a load of poo. The children all thought it was great fun, including me. Sadly the Ilford Hippodrome was destroyed by the Germans when a V2 rocket landed at the back of the theatre on the night 12th Jan 1944 during a performance of the pantomime Dick Whittington – many were killed and injured.
I remember Mrs Strachan in 1947/48 when she came down from the Cleveland Road Junior School after Miss Butcher left rather unexpectedly. I also went to Woodlands Infants School from Easter 1945, I was 5 in January, and in September transfered to Cleveland Infants. After Cleveland School I went to Loxford Secondary Modern School which meant I had to Walk a long way to school as I lived just 4 door away in Rutland Road. I also remember the Market where we bought our weekly shop from, I think it was called Whites in the furthest entrance from the Broadway. Oposite the market was a small row of shops which housed a Horse Butchers and Terry's Bookshop.
Does anyone remember the Sally Lunn Restaurant in the Cranbrook Road? It used to be next door to Russells Garden Nursery that later became the Prudential Offices, at the time one of Ilford's tallest buildings
The former Ron Pakeham (spelling?) owned one of the stores in Pioneer Market and sub-let half (and eventually all) that store to Redbridge Photographic, where I worked some evenings and Saturdays whilst at school and later college. The manager was Val Goldstein, who knew everyone in the trade! Chick ran the musical instruments side for Ron, and was a real character who enjoyed liquid refreshment... High points were a certain old gentleman called Frank Fl**ker who used to come in and buy the 'risque' 8mm shorts from David Hamilton, which were so tame by today's standards even the vicar would not blush, and a weird guy who dressed up in half of a truly ancient cinema commissionaire's uniform ...Read full memory
I was born in Ilford in 1933 living in Elstree Gardens near Loxford Park. After attending Woodlands Road Primary School, I went to Clevend Road School off Ilford Lane. The headmaster was a very kind man called Mr Edwards and our teacher was Mrs Strachan (pronouned Strawn). We were very well behaved so at the end of lessons we hurried to get out into the plaground. This involved descending the many granite stairs to the ground floor at breakneck speed. The roar of this exodus as kids sped to freedom is something I will never forget. Thank you Mr Edwards and Mrs Strachan for making our school years happy. They also taught us something because I passed the 11+ exam and was sent to the best school in the borough, ...Read full memory
I used to work at Memory Brothers in the Pioneer Market. I cannot remember the exact year, but it was around 1964-65. Right opposite our shop was Holmes fruit and veg shop. I seem to also remember that they had two shops. Our shop was open counter on three sides, grocery, bacon and cooked meats which was the counter I worked on. We had a lot of fun with fellow traders and customers alike. Great days, alas long gone.
I have very fond memories of the pioneer market ilford my aunt & uncle peggy & ernie holmes owned the veg stall they had no children so as there only nephew i was a very spoilt 4 year old an added bonus was that my nan daisey macCarthy worked on the oppsite hardware stall again as her only grandchild i was spoilt i remember going home with bags of sweets and toys. sadly ernie died of hodgekins disease in 1955 he was 29 aunt peg married louis amato in 1958 they had fruit & veg shops in romford road and walter hurford parade manor park they retired to barking louis died in 2004 peggy in 2006 they were 80 & 78. nan died in 1983 aged 90 her son my father benjamin brown who is from her first marriage is still alive he ...Read full memory
I was born in Ilford in 1928, I now live in Australia, came here in 1948 so my memories are of that time. This picture is of where we used to shop every week. We lived in Dunedin Road. Is the railway close by? I was in the Gaumont Super cinema when it was bombed. But that is another story. I remember the Hippodrome too.
Buy this as an Unmounted Print
Sign-in

to save this photo to your Albums.

Collect photos, maps, memories and books of interest to you.