Liverpool, Ss Majestic, White Star Line 1890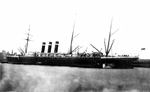 Previous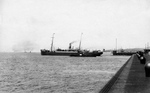 Next
Memories of Liverpool, SS Majestic, White Star Line 1890
My mum lived in Lamb Street, the bottom half, she lived with her mother Harriet Prescott, sister Gertie and brother Billy. When Mum was born she was given the same name as her mother. They were bombed out of Lamb Street during the war, there do not seem to be any photos in books on the website of Lamb Street. Mum had many happy memories of Lamb Street and remembers Father Winder, although mum was C of E she said he was a very nice man and was well liked by all. Has anyone any photos of Lamb street? We all would love to see them. Best wishes Margery Hall.
My greatgrandfather Patrick Matthews, his second wife Mary Ann (Smith) together with their daughter Rose sailed on the maiden voyage of the Majestic to New York in April 1890. Patrick was from Cootehill, CountyCavan, Ireland. In 2005 I found his descendants living in Florida. My husband and I flew to America for a holiday and met our new cousins.
On 25 June 1890 my grandmother, Emma L Hasell, 24 years old, left her life as a household servant and sailed on the Majestic for New York where she joined her fiance, William Henry Pickering, formerly of Silverdale and Tunbridge Wells. She stayed in the YWCA until she found work. They married in November 1891.
Memories of Liverpool
I was born in red rock street I have many lovely memories of my childhood there sadly my sister and I had to leave when our mother died we have never forgotten our time there and as we don't have anything from our time as a family there we do have the memories of family times there the corner shop was on the next block to us ...Read full memory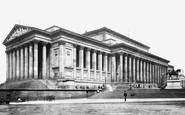 Happy memories! I was born in Liverpool, 1947, but my father moved us down to Plymouth in 1952, where I'm still living. Because of all my maternal relatives still living in Liverpool we'd make frequent visits and I have fond memories of the trams, the last one of which ran in September 1957, two years after this photo. If I had ...Read full memory
I lived in Chapel Gardens next to St Anthony's church, there were only 3 houses in our street, the Greggs, Mcartheys and us Hawkins. I went to St Anthony's School and left in 1957 when we moved to Kirkby. I worked in Scotts Bakery in Rose Place and have many fond memories of the people I worked with. I met my first husband ...Read full memory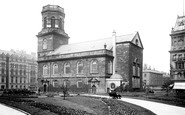 My first job after leaving Our Lady of Mount Carmel school was in the accounts office of the well known Blacklers Department Store. The office only was located in Bold Street during 1953. The office staff relocated to the main store during 1953/54. I worked with a friend called Margaret Langshaw. We both left to work at ...Read full memory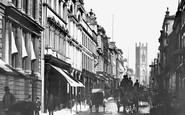 Sign-in

to save this photo to your Albums.

Collect photos, maps, memories and books of interest to you.