Macclesfield, Parkside Asylum 1897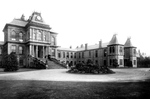 Previous photo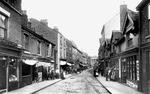 Next photo
Memories of Macclesfield, Parkside Asylum 1897
It was early summer in 1967 when suffering from a 'mental breakdown' I was admitted into Macc in the middle of the night, horror upon horror me and my mates had often talked about and even took the piss out of this place even though we lived over the hill in Buxton, it was a place we use to pass if we were on a coach trip to Blackpool, a monstrous unwelcome building, never in the memory of man did I ever think that one day in my twenties would i be an inmate there. I was under the watchful eye of a fantastic Doctor Jarman who help me to settle in to a regime I knew absolutely nothing about, I'm not going to talk about my fellow inmates because they like me ...Read full memory
My grandma, Mary Bowers, worked at Parkside Hospital in the 60's & was there the day Neil Armstrong took the first steps on the moon in 1969. Mum talks of Grandma & how she found it so funny as the patients were all sat round to see the 'The first man walk on the moon'. One patient, my grandma told mum, said 'I don't want to sit here' and she replied to her 'but you're going to see the first man walk on the moon!' and the patient replied, 'haha, walk on the moon?.....and they call us crazy, chuckle'. I'd like to believe there were other kind hearted nurses like my grandma who worked & spent time with patients at Parkside, who also had some good memories too. Does anyone else have good memories or stories such as this?
In 1997 I worked for a company calles SES security where I was a security officer at Parkside. Over my time there I became fascinated with the layout of the site and spent many many months walking the length and breadth of every building there. I have to say that the main building with the clock tower was one of the most frightening places I have ever been. There was just this feeling of all the tortured souls that had been within its walls. As I am writting this now, the hairs on the back of my neck are jumping. You could just sense the sadness and of the building itself. At the side of the main building with clock tower was what I would desribe as a caretaker's courtyard. I was obsessed with finding the ...Read full memory
Memories of Macclesfield
Buy this as an Unmounted Print
Sign-in

to save this photo to your Albums.

Collect photos, maps, memories and books of interest to you.