Addlestone, Princess Mary Homes 1904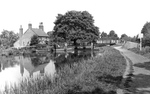 Previous photo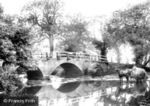 Next photo
Memories of Addlestone, Princess Mary Homes 1904
I was a plate layer on the railway lines from Chertsey through Addlestone to Waybridge in the late 60s . Roy Spearman .
My family lived in Collingbourne, High St, Addlestone and my youngest sister, Janet was b orn there, in 1943. Michael, Jean & Charles (sadly all deceased) myself, Kathleen, Ann & Janet lived there until 1952. Does anyone remember us or have any history of the house?
I can remember as a teenager in the late 1970s early 1980s walking home in the dark down Crouch Oak Road and being terrified of walking past the gates to the home and the Church that was just inside the gates. Even during the day you never ever saw anybody going in or coming out of the home or walking about, it was almost like it was deserted. I think thats where I learnt to run in platform boots and stiletto heels, to get past those gates as fast as possible lol.
There you are thinking of Jill dance I MEAN .
I am not too sure where my mum worked, I'll have to think about that one. I had a job at Peter Scott where they made TV sets and radio grams. I also worked at John Lewis, tying to learn how to make furniture. My dad was a brilliant plasterer along with his partner, a Mr Browne. Oh yes, I went to full time board training collage to learn to make hand-made furniture and got my City & Guilds. I hope anyone who worked at John Lewis reads this as most if not all who worked there hated me. Bad days there, never mind who cares. My mum comes from Belfast, my dad was in the navy. My friends and I went for a swim at Weybridge locks.
Hi Rosemary, Once again I found you very heplful, you sent me info on Princess Mary Homes. I followed it up and found them very helpful, only trouble is other people on same page (not covered by freedom of information) will have to wait for another couple of years until the next census to find out where she went when leaving the home. Thanking you once again for taking trouble to answer. Regards, Shirley (Ken Epps)
I am looking for information on my grandmother who is listed as being at Princess Mary Village in Addlestone in the 1901 census. We have been able to ascertain she left there in March 1908. Does anyone have a list of the names of the girls in this particular image.
Buy this as an Unmounted Print
Sign-in

to save this photo to your Albums.

Collect photos, maps, memories and books of interest to you.