Alnmouth, The River Aln c.1955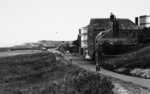 Previous photo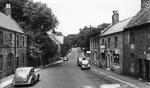 Next photo
Memories of Alnmouth, the River Aln c1955
I lived and went the junior school from 1964 to August 1965, the school's headmaster was Mr Smart, he was a fantastic teacher. I then went to Alnwick Secondary Modern, the name I can't recall. I have such fantastic memories of Alnmouth; earning pocket money, caddying at Foxton golf course. I recall living in Riverside Road, my parents used the Sun Inn as their local. Few names I remember; Joanna Percy and a Mrs Callum had the shop there. I had three brothers, Keith, Timothy and Kevin and my dad was stationed at Boulmer - we went to Singapore in '65. Would be great if anyone remembers the McKinlay family and can make contact. I live in Wiltshire now, but I am planning to come and visit asap.
SUMMER HOLIDAYS IN THE WAR I have just spent a very pleasant time looking though some photos on FLICKR, my! It did bring back memories, Alnemouth in the war time Dad used to run 16MM mobile cinema in the church hall and I saw Charles Loughton in Henry the Eighth there in a very early black and white film. We used to stay at the Schooner Hotel. I found an incendiary bomb on the sands and took it back to the hotel into the dinning room God! You should have seen them shift when I said 'Mummy Mummy look what I found!!!' a very old Colonel took it from me and clipped me round the head and dashed off!! Jumping from concrete tank trap to tank trap up the estuary ..., pulling ourselves across the river hand over hand on the ...Read full memory
I remember being at Nethergrange with Jean Newbigin, and remember when she met her husband to be, and the building of their boat. In fact later , when we moved to Ravenslaw in Alnwich (in our third year) Jean and I shared a room as I was also a student at Alnwick Teacher Training College, living at Nethergrange in Alnmouth for our first two years. Like Jean I also met my husband to be in the village. He lived at Barndale Cottage, opposite the Hope and Anchor pub. I had many happy hours walking round this piece of coast, and painted watercolours of it several times. It is a stunningly beautiful place, with very friendly people.
We built our 60ft catamaran at the farm at the bottom of this lane. I met my husband in the Schooner Hotel on the 13th November 1970. I was attending Alnwick College and we lived in Nether Grange as opposed to the castle. Wonderful village, friendly people.
Buy this as an Unmounted Print
Sign-in

to save this photo to your Albums.

Collect photos, maps, memories and books of interest to you.