Batchworth Heath, 1903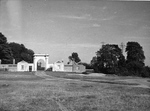 Next photo
Memories of Batchworth Heath, 1903
My great aunt, Miss Olive Howlett moved to Troutstream Hall around 1955. She retired as matron of St Columba Hospital ,St Johns Wood, and together with Miss Eva Birchett opened a home for the aged (then for females only). Whether they were the founders of the Troutstream Hall Trust or were merely employed by the trust I can't remember. Prior to this the house had been a private hotel. The bellboard still hung in the kitchen, the main feature of which was an extremely uncooperative coal-fired range tended by the caretaker/gardener - also of uncertain temper! My grandmother, my father and I would visit regularly, driving over from Uxbridge. We often took the picturesque route via Loudwater Lane ...Read full memory
Is the pond still there? I remember delivering newspapers to the pub, and to other houses and cottages around the heath - by bike all the way from Moor Park shops! At least it was downhill from here - about three papers to the pub and six to the golf club on the way back. Even then, most of the cottages around the heath were occupied by country folk, farm workers etc. and really homely and friendly they were - I've noticed the area has become somewhat ''gentrified'' and the heath itself then was much more open with fewer trees - who planted all the ''screening trees'' and did they have permission? I believe the pub was a regular stop for the day-tripper Charabanc trade in Ye Olden Days.
In the distance you can see Ye Olde Greene Manne pub on Batchworth Heath. My Dad and I sat in the pub garden and drank beer one hot summer's day in 1965 and my mum took a photo of us together which I treasure as a lovely memory. Can you believe we were wearing tweed sports jackets, coloured shirts and ties on a hot day! I suppose that was fashionable then. I just wish the old beer prices were still in fashion; as I recall it was one shilling and ten pence for a pint of bitter. Mind you Watney's Red Barrel and Inde Coope's Double Diamond were all you could get locally in those days. The quality and choice of beer have both gone up dramatically over the last 40 years but so have the ...Read full memory
Memories of Batchworth Heath
Buy this as an Unmounted Print
Sign-in

to save this photo to your Albums.

Collect photos, maps, memories and books of interest to you.