Beccles, Church Steps 1923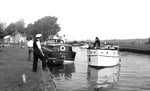 Previous photo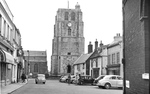 Next photo
Memories of Beccles, Church Steps 1923
Memories of Beccles
Yes, I remember this view very well. My father worked for the Eastern Electricity Board, which is pictured on the right of the picture. I was 15 at the time. I would like to know if the EEB is still there and does anyone else remember this picture around this time?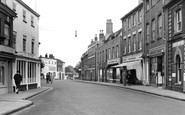 how many ingates are there in Suffolk. when I visited beccles in 2010 the pub had changed to a hotel my surname is Ingate
Location: Burgh St Peter, Beccles: My sister and brother-in-law (Ronald and Shirley Miller), owned a small timber cottage above the dyke on Dicks Mount during 1960-1970's. It was a charming one or two bedroom cottage and they had a dinghy moored on the dyke. My brother-in-law lived there more than my sister as he was writing radio plays at the time but apparently and mysteriously, the cottage was burned down somehow? Not exactly sure when either but maybe mid 1960's? No-one knows the full story but I wonder if this is correct or where I would find any truthful, accurate records? Looking at the photo's of The Firs; it is all very familiar as I stayed there often and we walked their ...Read full memory
I remember my mother telling me that her brother had a similar experience to this around the 1920's (approx). He was riding his bicycle through the churchyard and saw, what looked like someone clinging to the wall in the churchyard, (which is quite a drop down from the other side onto Puddingmoor). But when he took a closer look to see if he could perhaps help the person - there was no-one there at all! He must have cycled home very quickly after that experience!
Buy this as an Unmounted Print
Sign-in

to save this photo to your Albums.

Collect photos, maps, memories and books of interest to you.