Bexleyheath, Danson Park c.1965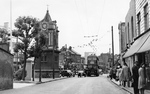 Previous photo

Next photo
Memories of Bexleyheath, Danson Park c1965
I was born in London in 1933 and later, when the Ideal Homes Estates were constructed, my parents with me, moved to Howard avenue at Bexley. Danson Park was the place to go to. Everything happened there. Firework displays viewed from the North Bank each year and, I can remember a kids fancy dress competition in which I was dressed up as Mickey Mouse complete with the face mask which went completely over my head with two eye holes! There was the lido which has disappeared and we used to walk through to The Guy Earl of Warwick to catch the 89 bus to go to Blackheath where my aunts used to live. If you were brave enough, there was the motor launch ride. The lake was used to dump a lot of the bomb damaged ...Read full memory
Who remembers going to the Swing Park at the bottom of Lodge Hill? We used to play pick up the lolly stick - laying down on the roundabout. And a blindfold game was played on the Big Umbrella - The game was called L O N D O N . The person who was blindfolded would stand in the middle where the pole was and say L o n d o n coming ready or not, and the rest of us would be climbing like monkeys around the frame trying not to get caught. Then there was that long pendulum thing where some kids would sit on it and the others would stand at each end working to get it as high as possible. A friend/ neighbour of ours Karen Southall came off the swings and broke both arms. On another occasion a boy fell from the top ...Read full memory
We were married at St Paul's in Northumbeland Heath in 1962 and had reception at the Manor House, Danson Park. I was born in Romford and met my future wife at a party at the girlfriend's house. We courted each other across the Woolwich ferry (very romantic), many a time we rode together on the ferry and watched the steam engines working, then on the way to Romford we stopped and looked at the docks unloading etc. After our wedding we spent the first years in a flat in South Norwood. The wife continued to work in the city and this was convenient for commuting. I was a telephone engineer, stationed at Kidbrook and remember being up a pole at Bexleyheath and a smog came down, we rang the office and were ...Read full memory
I used to live in 'The Nine Gables' pink painted house in Woolwich Road opposite the Graham Road Secondary Modern School for boys and was the only boy caned for hitting the headmaster with a snowball full in his face ! My house was not far from the Broadway, and I spent many a time walking down the Watling Street shops. As far as I remember there was a cinema by the clocktower on the corner of Erith Road, and our meanderings used to start at this end of the Broadway. First off we would pop into Woolies for a look round and onwards to the large toy store on the right hand side, then on to a department store to watch a demo of the new fad called stereo radio! I also remember when sweets came off ration and not a sweet was ...Read full memory
I purchased this picture for my mum for Mother's Day. She and her sister (who now has sadly died) used to play at Danson Park when they were young - my mum has a good memory of her sister swimming the lake.
Unfortunately vague memories of my sister and I rowing on the lake at Danson park, that's really all I can recall at this stage.
Buy this as an Unmounted Print
Sign-in

to save this photo to your Albums.

Collect photos, maps, memories and books of interest to you.