Birchington, The Square c.1955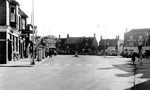 Next photo
Memories of Birchington, the Square c1955
The ice cream here was superb it was called 'ABSOPURE' as far as I can remember , I was in Birchington last year 2013 & wanted to visit the Ice Cream parlour but it was closed which was a disappointment for me Happy memories of Birchington in the 50's with my dear Nan & Granddad & great aunt Mag (next door) I loved the place (still do) cant wait to go back My Nan & Garndad lived at 127 Park Avenue, it was there that I spent most of my school Holidays up until I left schhol at the age of 15. I loved Birchington & still do... I hope my wife and I can go back again in 2016 Leonard (Len) Crawley www.lencrawley.co.uk
We use to stay at my Aunts in King Edward Road Birchington. My Dad lived in Dunstan Ave Westgate as a boy. Most of the family were in the local brass band and so it was our duty to go and listen on a Sunday afternoon. We had a visit to the Quex park and of coarse to the local cream parlour which served delicious ice creams.
My sisters and I are Birchington born and bred and as far as I'm concerned growing up in Birchinton in the late fifties and early sixties was the best place in the world. My mum would collect my sisters from Sunday school and we would catch a bus from the square, usually the number 70 (a single decker coach in maroon and cream) then down to Minnis Bay - to be taken to the ice cream parlour as a real treat! The original owner was a Mr Collins who was an Italian gentleman who made his own ice cream on the premises. He had to change his name because of the war, so that just shows how long he was there. I can still see him and his wife serving the customers, it was one of those timeless places that are very few and far between.
Many happy memories of Birchington - my sister (born 1933) often used to take me to the Ice Cream Parlour which until about 5 years ago still had the rattan chairs and tables and distinctive smell of vanilla. Most family links through Mill Row and Mill Lane (off Canterbury Road and near Court Mount) with aunt and uncle moving into Shamrock Villas in 1911 when first built. Lots of connections through Stringers (mother's sister Edith) Kings (mother's sister Lillian) and Dennes. Recent checks have traced Dennes back many generations including marrying Crispe of Quex about 1433 ! Also to local Hoodeners troup in 1920s. Happy New Year to al.l
I can also remember the ice-cream parlour from when I was little, we used to stop here on the way back from the beach, we lived in Broadstairs. In fact at present (2011) the parlour still kind of exists, but is closed! Most of the original decor was changed in 2005 when the owners retired, but it remained an ice-cream parlour and is currently up for lease.
Birchington with two bays and a village atmosphere 'in town'. A rail station with the most wonderful ice cream parlour opposite - wicker chairs on those old fashioned curved steel bases and circular wicker tables with glass tops - and ice cream to die for! Mr Whippy was barely born when ice cream in glass or metal dishes on stems with tasty wafers (unlike those of the 21st century) were the treat of all time! Models of knickerbocker glories and banana splits at 5 times the price of ice cream in dishes lined glass shelves behind the counter, always aspired to - disappointing when actually had one at what used to be Pelosi, Ramsgate in 1993! Birchington High Street full of little shops with ...Read full memory
In the early 1960s my dad would drive us down to Birchington in his Morris Oxford to visit my grandparents who lived in Lancaster Gardens. We would visit on a Sunday about twice a month and in the summer we would sometimes walk across the cabbage fields, cross the railway line and paddle in the sea at Minnis Bay. On some occations we would all go for a drive and I can remember going to Sandwich past the firework factory, the hooverport and lots of other places that looked so interesting to me. I remember going down the Thanet Way one Christmas Day and only seeing about half a dozen cars on the whole trip. Happy days.
In the 1950s we called ourselves "Wolf Cubs" and I remember being taken in the back of a removal lorry with all our camping gear for a week long camp with the 4th Bexleyheath Cubs at Birchington. Although it was supposed to be a "camp" in fact we all stayed in a hut but spent most of our time on happy outdoor activities. The highlight was a day's outing to Margate. I remember buying a souvenir plastic salt and pepper pot to take home to my Mum and Dad! I had a great time with the cub pack for more than two years until I moved to Bournemouth in 1954. This camp at Birchington was the event I remember most. Now I am in my mid-sixties but I still have the handful of badges I earned as a cub!
Buy this as an Unmounted Print
Sign-in

to save this photo to your Albums.

Collect photos, maps, memories and books of interest to you.