Birkenhead, Queensway Tunnel c.1965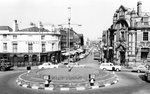 Previous photo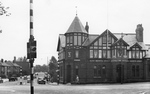 Next photo
Memories of Birkenhead, Queensway Tunnel c1965
Looking for anyone that went to Burlington infant school new Malden around 1967. Have bad memories of a dreadful teacher, a dragon of a woman always keen to throw something at you if you weren't up to scratch. Big woman. Anyone remember her? My name was Louise Varoujian then and my brother Leon also attended. The maths teacher he was pretty scary too. Have great memories of Woolworths and their wooden floors and mum taking is there and shopping in Sainsbury. Does anyone recall the sweet shop opp the school I believe? and the barbers called George opp school I think.
I can remember my dad, who has since died, telling me stories of his childhood and also my mum's. It was all about Birkenhead - it was all very interesting. Yes, he did mention the Cooks and Ainsley, as he was one of the Burns. Happy times for the Burns and Jones. Wish I could have those days back when we all sat round as kids and listened to mum and dad .... all those stories about Birkenhead Park and lots more!
I lived in Whitfield Place one street down from The Queens Hall picture house later called The Queens Dance Hall; also danced in The Kingsland, The Legion beside the Park Mikes, Byrne Ave and many others. I remember the club over Burton's - it was called The Craftsmans. Those days in Birkenhead were such happy days, I knew almost everyone in that area and most of the people in St Andrews Square mostly the boys. The many pubs in that area; The Manchester Arms, The Brown Jug, The Cobermere. Saw many a good stage show on the Ritz and many movie stars. We would walk up Grange Road on a Saturday looking in all the shops Woolies, Marks, and British Home Store and then up to The Market to see if we could get a ...Read full memory
Yes, I well remember the old Kingsland, I used to go there every Saturday night and one fateful night in late April 1955 I met my wife to be. She lived in Higher Tranmere and when we got engaged we switched to the Park Ballroom to avoid all the fights at the Kingsland. The Mikes, Byrne Ave baths and the Haigh Hall in Moreton were good dances as well. Happy Days A. Harry Hardy
What happy memories I recall of my early dancing days, learning to jive at the Queens Kingsland and New Brighton Tower. I went a lot with my older brother Cliffy Keogh, there were live bands then and only stayed open till 11 o'lock pm. We lived in the big house on the corner of Camden St and Claughton Road opposite St Andrews Square. I had seven brothers and five sisters, but never seemed crowded because it was a really big house. I have very fond memories of my childhood and all the friends I made. In the 60's, my friends and I used to go dancing at a club over the shops in Grange Rd, the Park Ballroom now Houlihans) in Claughton Village or The Empress in New Brighton. Anyone out there remember those good old days?
Yes we lived at 40a Cathcart Street, I can still remember the AINSLEYS, also the COOKS, the BURNS ect, great little street, all the best, ERIC APTER (the jockey 1).
I lived in number 9 Tunnel Road which is still there today. It's the road running from the side of the flyover at the bottom of Chester Street to access the tunnel. Me and my brother and sisters played every day on the top (as we called it), this is where the gardens were situated right at the mouth of the tunnel. We would use white pavement chalk to draw a house on the ground and pick sods from the grass and sell them as cabbage to play shop. We would play whip and top and the lads would play kick the can (football only with an old can they had found) to amuse themselves, as they couldn't afford footballs in them days. We would play allio and we would play on the old coaches that used to get dumped on the ...Read full memory
Hi, as a kid me and our Mick would be look outs for workers from Camel Lairds playing pigeon toss for pennies. At the side of the building to the right of the tunnel we lived in the Abbey Buildings and the tunnel area was a play area for us kids, we would play in railway sidings to the right of the pic. We would play on the gardens at the front of the tunnel, it was so different in them days. We would watch bikers on Sunday coming through the tunnel and from Woodside heading for Wales, hundreds of cyclists all whistleing as they went past. No cars in them days as such. As kids we would go down to Woodside, pay to go on the ferry if we had the money to do it? and hide in the toilets, go back and to all day till we ...Read full memory
Us Ainslie's remember 'the Apters', who was the 'jockey' in the family? Was it Eric Apter senior? Who was Michelle Apter, my bro was in !! love with her when we were kids.
Went through the tunnel when I was about 8 or 9 with my Dad when he was driving trucks (sorry lorries)for Roebuck's in Heswall, we would be driving through with the window down, great fun with all the diferent sounds and smells, until he told me to close it.
I also did a paper round at Connely's in the early 1950s, I lived next door at 40a Cathcart Street, I think it is a vacant plot now. We had a greengrocer's in Oxton Road.
I was a paper boy at Frank Connely's newsagents at the corner of Cleveland Street and Cathcart Street, if you think it's cold now, that winter had to be the worst. My name is Dibber Hayes, it would be interesting if any one remembers me or Davey Dunn or Frannk Connelly's shop.
I used to live across the main road from the tunnel, on Cleveland Street, next to the Seamans Mission. That road looked hundreds of yards wide, and I used to sit near the entrance on a wall, watching the cars going into and coming out of the tunnel. A long walk up to Hamilton Square, then through the bus depot into the ferry. At that time, the world was huge, but relatively quiet compared to nowadays. I last visited back about 2003, and it all looks minute in comparison.
I clearly remember these Land Rover "Tunnel Patrol" vehicles although I was only 7 in 1965. I thought that they were real Police vehicles (were they labelled "Tunnel Police" I wonder?) and I remember being puzzled by the cream colour as ordinary Police vehicles were either all white or sky-blue with white doors. My family used to visit my grandmother (who lived in Tranmere) virtually every week and my Dad used to play a game on the way home with me and my mother when it was dark. It was called "How Many Cars in the Tunnel Without Lights?". Each of us had to guess a number for how many cars would be seen in the tunnel without any lights on, and the closest to the actual total, won. You ...Read full memory
Buy this as an Unmounted Print
Sign-in

to save this photo to your Albums.

Collect photos, maps, memories and books of interest to you.